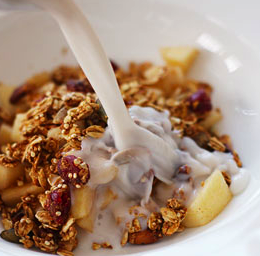 photo credit
It's mid-October, and if you're not sick of pumpkin flavor yet (and even if you are) this "skinny" pumpkin granola recipe is worth trying. Making your own granola is far more healthy than store bought, as you can tailor sugar intake and other ingredients to your liking.
Disclaimer: attaching a label like "skinny" to this recipe does not mean you should eat pounds of it. Everything in moderation. And while health gurus argue whether granola is in fact healthy or not, look at the main ingredients and be the judge for yourself as to what you put in your body – with this recipe you'll be putting in oats, quinoa, pecans, honey, cinnamon, pumpkin spice, and cranberries.
You can find the original recipe here.
What you need (servings: 11, calories: 133, protein: 3 grams, sugar: 8 grams, fat: 4.5 grams)
1 1/2 cups of rolled oats
1/2 cup of dried cranberries
1/4 cup of uncooked quinoa
1/4 cup of ground flaxseed
1/4 cup of pecans, chopped
1/4 cup of pepitas (or another seed of your choice)
1/4 cup of honey (or you can use maple syrup)
1/4 cup of pumpkin puree
1 teaspoon of pumpkin spice (add more if you'd like)
1 teaspoon of canola oil
1/2 teaspoon of vanilla extract
1/4 teaspoon of cinnamon
A dash of salt
Preparation
Preheat your oven to 325 degrees F
Line a baking pan with parchment or wax paper
Spread the oats and quinoa on a baking pan
Allow to toast in the oven for about 10 minutes, stir once after 5 minutes
Remove the pan from the oven, and pour the toasted oats into a mixing bowl
Add the ground flaxseeds, pepitas, dried cranberries, and pecans
Reduce your oven heat to 300 degrees F
In a second mixing bowl, combine the following: honey, pumpkin puree, oil, cinnamon, pumpkin spice, vanilla extract, and dash of salt
Pour the above mixture over the oat mixture and stir together
Spread the mixture onto the baking sheet and bake for 20 minutes, or until the mixture is golden in color
And enjoy! This dish can be enjoyed in cereal, yogurt, or plain with almond milk. Also, gluten free oats can be used instead of rolled oats to cater to gluten allergies. Also, add chopped apples for a whole new fall flavor.
What do you think?
Have you tried this recipe? Are you sick of pumpkin? Add your opinion in the comments section below!