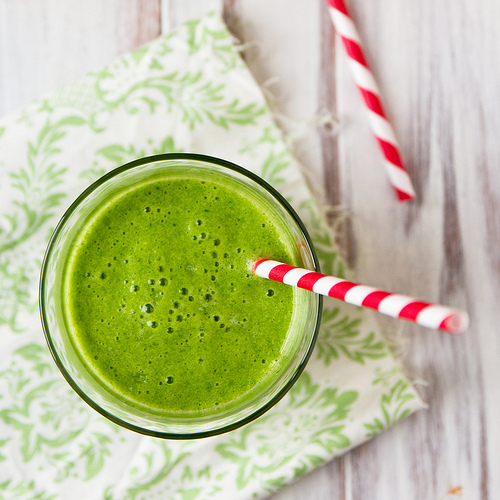 photo credit
Whether you've been on a health kick lately, you want to start on one, or you're just looking for a yummy and healthy smoothie recipe, look no further than this green machine. The smoothie, made mostly from berries, kale, and spinach, is packed with antioxidants, which help protect your cells from free radicals. Drink up, gorgeous!
What you need
1/2 cup of spinach (include stems and all!)
1 banana, chopped
1 tsp of flax seed, ground
1 cup of berries (blueberries, strawberries, or raspberries work great!
3 kale leaves, with the center removed
1-2 scoops of protein powder (optional)
Preparation
Add ingredients into the blender with 1 cup of water (or more if you would prefer the smoothie to be less thick in consistency)
Blend and enjoy!
Yes, it's really that easy. One glass of this smoothie is about 100 calories and includes two grams of protein. If you're looking to add more protein, extra protein powder is a great addition. To add protein with a touch of calcium opt for a cup of milk instead of the cup of water.
This smoothie is great as a breakfast smoothie or for after a workout.
What do you think?
Have you tried this smoothie? What did you think? What are your favorite smoothie recipes? Share with us in the comments section below!