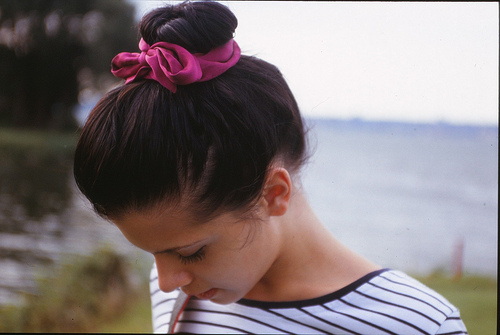 A few of you (okay, a lot of you) asked for pictures to accompany the instructions and tips for those of you with longer hair. This is part 2 of How to make the perfect bun. It's been a while, but I am finally determined to give you what you have been asking for.
The Illustrated Instructions
As you know the first step is to cut a hole in the toe of a tube sock then role it like you would roll a long shirt sleeve. The end result should resemble a doughnut. After you pull your hair up into a pony tail (where you would like the center of your bun to be) pull your hair through the center of the sock.
Next you should spread your hair over the sock bun (Make sure to cover all of the sock otherwise you'll be able to see the material and you will get weird questions like : Do you normally put footwear in your hair?)
Thirdly, place a rubber band over the bun and secure the dangling left-over hair with bobby pins, wrapping your hair around the base of the bun.
A Second Solution
A few of you said you tried this, but your hair was too long to bobby pin it around the bun. There is a quick solution to this. Prepare the bun like you normally would; however, instead of pinning the loose hair with bobby pins let it hang straight down your back.
Braid your hair into one braid (normal or fishtail braid will work for this). Once your done with the braid wrap that around the base of your bun. The end result should look like this:
What Do You Think?
Have you tried out this hairstyle? Will you? Leave us a comment and let us know what you think!