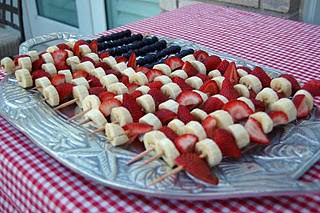 photo credit
Whether you're throwing your own barbeque for the fourth of July or attending one, fruit kabob flags are perfect to bring to an Independence Day occasion as a favor or a staple snack! They're easy, refreshing, and healthy too. With this patriotic pop of color you and your guests will be ready for fireworks in no time.
What you need (serving size: 13 skewers)
A medium-sized box of strawberries (you need 19 strawberries)
A medium-sized box of blueberries (you need 49 strawberr9es)
4 bananas (you need 32 sliced rounds)
13 Wooden skewers
Preparation
Slice the bananas in rounds thick enough to skew onto the wooden skewer
Slice the strawberries in halves
Line up your 13 skewers on a serving plate, preferably festive!
Skewer one: 7 blueberries, then one banana, one strawberry, another banana, and another strawberry
Repeat for 6 more skewers. Your first 7 will have this pattern and include blueberries
For skewers 8-13, begin with a strawberry and alternate strawberry and banana. You should have 4 strawberry halves on each separated by three banana rounds
And voila! A refreshing and patriotic snack that is easy but adds to the decor of any celebration.
What do you think?
Have you tried this recipe? What patriotic foods will you be serving up on the fourth? Let us know in the comments section below!