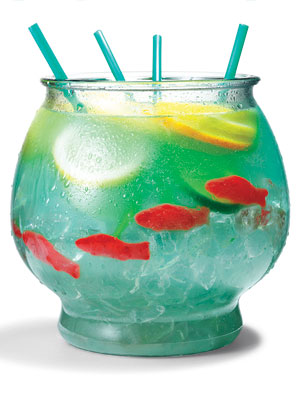 As college girls, we may have encountered a fish bowl or two… and hopefully remembered the tale. But regardless, fish bowls make the perfect summer drink because they're refreshingly sweet and can be shared with friends on a hot summer night. And the great thing about fish bowls you make yourself? The amount of alcohol you put in is completely up to you. We may have learned a thing or two from that past experience.

What you need
5 ounces of vodka
5 ounces of Malibu rum
3 ounces of blue Curacao
6 ounces of sweet-and-sour mix
A handful of gummy Swedish fish
1/2 cup of Nerds candy
3 slices of lime
3 slices of lemon
3 slices of orange
16 ounces of Sprite
16 ounces of pineapple juice
Don't forget the fish bowl!
Directions
Sprinkle the Nerds candy at the bottom of the bowl. This makes the "gravel" for your fish!
Fill the bowl with ice to about one or two inches below the rim, adding in the Swedish fish as you go
Add all of the above ingredients
Stick in several 18-inch straws. Note: when you insert the straws, make sure to not press them into the gravel
Enjoy!
Please note that the amount of alcohol for this recipe is completely adjustable, simply play with the amounts. If you decide to forgo a few ounces of alcohol, simply add in more Sprite.
What do you think?
Have you tried this recipe? What is your favorite summer drink? Let us know in the comments section below!