photo credit
I don't know about you, but out of all my shoes, my flats seem to show the most wear and tear. Whether I pick up cheapie $10 flats or splurge on a decent pair, they often fall apart equally fast. Luckily, all this torture over lost favourites has lead me to learn a few tips and tricks on how to make your flats last longer, so you can get more wear out of them for your money.
Try Them On
This is such a simple tip that is often overlooked, especially when scooping up a cheap pair of trendy flats: try before you buy! Even if you're sure of your shoe size, different makes and styles of shoes have different shapes and fits, especially if they are of cheaper quality. That's why it's essential to try every pair on and make sure they're the best fit you can get before buying. If your shoes are too tight, your feet with naturally push against the structure and wear them out faster. If they're too loose, they will slip and slide around your foot and wear from the inside-out. Either way, you're looking at a less-than-ideal relationship with your new shoes if they don't fit as best as possible.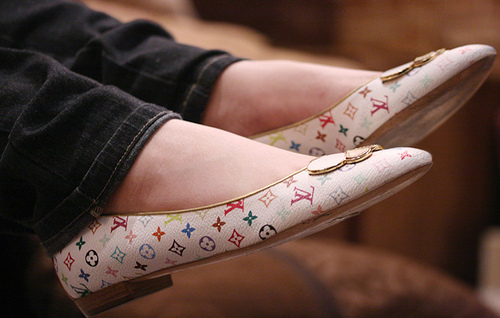 Clean Them Up
After dashing home from class in the rain, the last thing you want to do is clean the mud off your shoes. Hey, they're black, it barely shows, right? It may not be noticeable at first, but dirty, grease, water, and grime all wear away at shoe materials and quicken their break-down. If you want to keep your flats in tip-top shape, give them a quick wipe with a wet paper towel when you first get home, and then dry them off completely, whenever you wear them. If you notice dirt starting to build up, even with this daily swipe, do a more thorough clean every few weeks or so. This will help keep your flats from dissolving away sooner rather than later.
Line Them Out
A lot of the time, especially in the summer, you wear your flats with skirts or shorts and don't want to don a pair of socks inside your flats. However, your bare feet have natural oils that quickly wear away the inner linings of your shoes, and can eventually eat away at the toe and heel. Instead of commiting a fashion faux-pas and wearing socks with your skirt, grab a few pairs of sockettes of foot covers. These are like thin socks that only cover the part of your foot that your shoe covers, so you protect your shoe without the sockette showing. You can get these at any department store, they are often sold with hosiery and tights.
What Do You Think?
Do you have problems with your flats falling apart? How do you keep them together? Leave a comment and let me know!