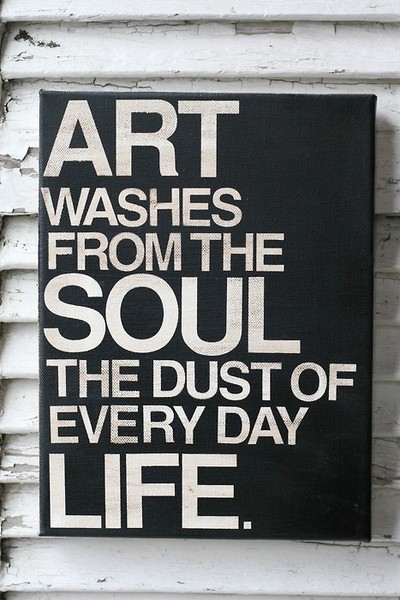 photo credit
Perfect for a dorm room or apartment, canvas quotes turn your favorite sayings into art. Need help thinking of a quote? Check out our list of inspirational and empowering quotes here!
What you need
A canvas, size of your choosing
Choose a canvas with a light color, or get a fabric print of your choice to cover the canvas and staple to the back (this will be the color of the letters)
Black acrylic paint (or whatever color you want the canvas to be)
A large paint brush
Stick-on letters (to be peeled off after paint dries)
Step one
If you're covering your canvas with fabric: cut the fabric so that you have an excess inch around each side of the canvas. Then either staple or hot glue the edges around the back of the canvas. The majority of the fabric will be painted over, the print will be the letters.
First, arrange your stick-on letters in the position you want them, make sure the size and spacing is right. Once you have it the way you like, stick the letters into place. The letters can either be stickers, like the type used in scrapbooking, or they can be thicker, raised letters that can be taped down.
Step two
Paint over the letters using the black paint, or whatever paint color you chose. Wait for the first coat to dry, and apply another if necessary. Avoid applying more paint than necessary, layered acrylic paint can crack.
Wait for it to dry completely!
Step three
Once the paint has completely dried, peel the letters off as cleanly as possible. The background of the letters should stand out immediately!
Step four
Get some adhesive strips or nails, and hang on your wall to enjoy!
What do you think?
Have you made canvas quote art? What quote did you use? How did you use it to decorate your space? Let us know in the comments section below!