photo credit
I don't know about you, but in my area it seems like there is a local flea market or farmer's market every other day just bursting with fun finds and great deals. It's the perfect way to get a shopping fix for less and enjoy a nice summer day, but there are a few tips and tricks you ought to know in order to make the most of your flea market excursion.
Watch for Fakes
Flea markets are a veritable hot bed for counterfeit dealers. It's easy for them to make some quick cash sales without having to worry about any paper trails or evidence left to get them in trouble. Don't be deceived or duped by these retailers. Pretty much any "designer" item, be it sunglasses or a handbag, at a flea market is a fake. Even if it looks real (some do, some don't) the only designer items that would be legal for sale at a market like this would be a used vintage, and this would be an extremely rare find. As tempting as it might be to scoop up a knock-off for a cheap price tag, this is illegal, usually a product of serious organized crime, and genuinely hurts the fashion industry. Check out ebay for cheap vintage finds, or save up your money for the real deal.
Don't Snub Antiques
While the 'antique alley' may not seem like your cup of tea, give it a chance and browse through a few items anyway. You can get unbelievable deals on many useful items which, if you're creative, can make cute decor accessories for your dorm or apartment. Think re-purposing that $2 crystal candy bowl for a catch all for earrings and rings on your vanity. Or how about polishing up that cheapie silver tray and adding a few candles to create an decorative display in your bathroom? If you get creative, the possibilities are endless, and you can end up with great finds that you'll keep with you for decades.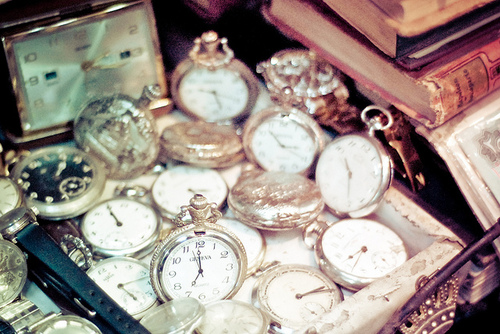 Score Some Vintage
Vintage finds are my absolute favourite reason to go to flea markets. While the ones around here are short on clothing, I can always find an abundances of jewellery and accessories from the 80's, 70's, all the way back to the 40's. Whether you're looking for some outrageous costume bead necklaces or a simple silver compact mirror for your purse, you might just find what you're looking for at a local flea market, and probably for an unbeatable price.
Play the Game
Bartering is a skill I have yet to perfect, but I have many friends who are pros at this market art. No matter how cheap an item is, you can usually talk the seller down at least a buck or two. Try explaining that you only have a certain amount of money, but that you have your heart set on the item. Bring money in small amounts ($1s and $2s) so that you don't get caught needing change after insisting you only had $2! Sometimes dealers really enjoy this back-and-forth with the customer, and purposely label items at a higher price to engage in bartering (or get an extra buck from the suckers). It's a fun way to test out your negotiating skills and can help you get a really killer deal.
What Do You Think?
Have you ever been to a flea market? What are you best tips when shopping in a market environment? Leave a comment and let me know!