Although the temperatures are still well below the freezing mark, in the world of fashion, spring is just around the corner. In the same manner in which department stores quickly shed their Christmas merchandise for Valentine's Day displays immediately following Boxing Day, spring fashions invade clothing storefronts as soon as the post-holiday sales are over. As exciting as it can be to see what's up ahead in the next season, many girls find it frustrating to effectively transition their look from winter to spring before the warm weather has fully set in. I've pulled together some simple tips to help you embrace the fun fashion of spring while still being comfortable as we move out of winter.
Skirts and Dresses:
The bright colours and fun prints of spring dresses and skirts may seem off-limits in knee-high snow, but with a few adjustments, you can wear a piece now as well as in the warm months to come. First off, pair the skirt or dress with some solid tights and boots to add warmth and some depth of colour. Next, add a simple cardigan or blazer to pull the look together and keep you toasty.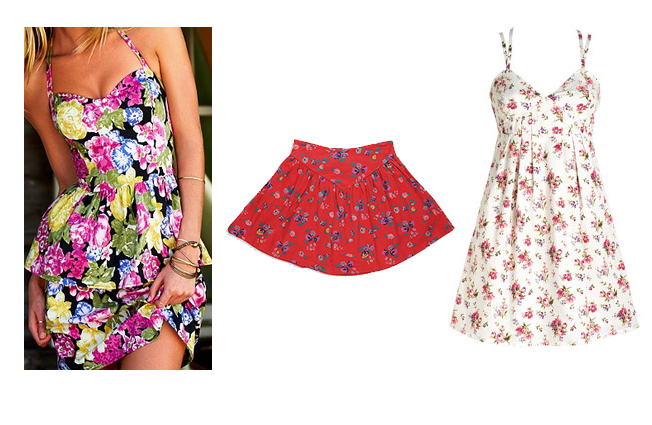 skirts & dresses: Victoria's Secret, Heritage 1981, Delia's
Pops of Colour:
Part of the fun of spring pieces is their bright colours, and this year is no exception. Start integrating pops of colour in layering pieces to brighten your look.
Start with a pair of lighter wash jeans, which begin to brighten up your look while still being durable enough for the cool weather. Next, try layering a brightly-coloured camisole, or a floral-printed tank, under a thin v-neck sweater: a simple way to start incorporating spring elements into your basic winter wardrobe.
jeans: Abercrombie & Fitch, Garage, forever21
Accessories:
If you're unsure which trends you're ready to follow for spring, or if you're tight on cash, an easy way to start adding some spring styles to your look is through accessories. The spring 2010 runways were filled with statement necklaces and stacks of candy-coloured bangles. Adding a bold necklace to a simple jeans-and-tee outfit, or pairing a standby sweater with some thick bracelets in bright, spring colours can totally transform your look.
For hair, the movement away from preppy headbands into delicately-jewelled hair clips was embraced on the spring runways. Toss aside your Gossip Girl topper for an understated, feminine pin tucked into curls, or a pony, for a fresh look.
Transitioning your neckwear can also be a simple step in achieving a forward-looking style.  Try swapping out your thick, woolly scarf for a gauzy pashmina.
bracelets: Girl Props, hair clip: Top Shop, scarf: Abercrombie & Fitch
Makeup:
Spring beauty trends allow for a subtle shift in your look if you're truly unwilling or unable to embrace any wardrobe changes. This year, like many years, it's all about a fresh complexion,
Achieve a dewy glow by mixing your foundation with a drop of creamy highlighter, and then add a springy pink blush to the apples of your cheeks. Next, smooth a light pink or coral gloss onto your lips. Finish the look with a swipe of mascara and a dot of highlighter to the inner corners of the eyes to make them pop.
highlighter: NARS
As the weather slowly shifts into sunnier, longer days, combine these tips to integrate the spring styles slowly into your own look…something every college girl should know. Before you know it, you'll be shopping for a bikini all over again—whether you like that idea or not.