Ever feel in the mood for a container of fries without the McDonalds deep-fried calories? Well here is a simple recipe that will allow you to have your fries without all the fat.
Homemade French Fries
Tools:
• Potato peeler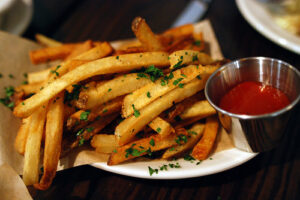 • Knife
• Frying Pan
Ingredients:
• One Potato
• Olive Oil
• Flour
• Seasoning Spices
Directions:
1. Set your pan on a burner on high. Let it heat up while you peel the potato.
2. Cut the potato into strips and set them aside.
3. Fill a small bowl with flour and some spices you like (garlic salt or Cajun seasoning are good). It should be about a cup of flour for every four tablespoons of spices.
4. Pour olive oil in the bottom of your frying pan so that it covers the entire bottom of the pan.
5. Piece by piec,e roll the potato slices into the flour and settle them into the olive oil (be careful, as the oil will splatter).
6. Turn over the French fries once one side is golden brown–or darker depending on your crispy preference.
7. Once all sides are crispy, remove the potatoes from the pan and set on paper towel to remove all the excess oil.
8. Eat and enjoy.
Mix it up: For a healthier twist, spray the potatoes with olive oil cooking spray and pop them in the oven at 350 F for 10-15 minutes. Missing those secret sauces you find at all your favorite restaurant joints? Mix together ketchup and tartar sauce, or honey mustard and barbeque, for your own "secret sauce".  photo credit.
What Do You Think?
What is your guilty pleasure food? Have you ever tried making it at home? Leave a comment and let us know!