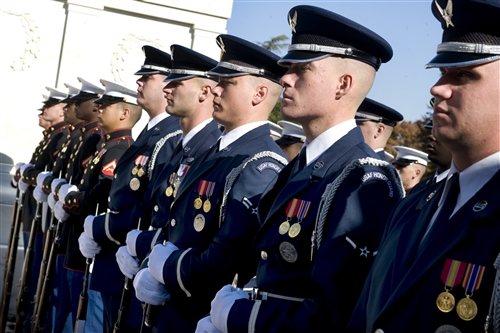 photo credit
I know not all of our readers are American, but today is Veterans Day in the US and I would just like to share some of my thoughts about remembrance. Every year my singing group is invited to sing at a memorial service for Veterans Day. It takes place in my university's Memorial Union, which was build in honor of all the World War I veterans, which just makes it all sink in that much more for me. I am really grateful to be able to show my appreciation through song. Otherwise I might just let today go by as another stressful day of college classes, presentations, and obligations.
I know a lot of you are stressed out with school and probably have a hard time taking time to think of the bigger picture. So find some time today, maybe just 5 minutes, and remember a hero in your life. It doesn't matter if they served in the military or have just made a great impact on your life or others. A good quote from Joseph Campbell says, "A hero is someone who has given his or her life to something bigger than oneself."  So whether you are American or not, you can use today to think of others. Thinking about people who have done something great or have touched your life can help you feel a purpose in the craziness of it all, which may put more gusto into your monotonous studying.

photo credit
You can laugh if you want, but this weekend I will be watching On the Town, in honor of Veterans Day. I have never had a tradition to celebrate on Veteran's Day, but I feel like I want to start one this year. I know how my grandparents were involved with the war, and I would love to hear their stories if they were still here. Do you have any traditions? Be sure to share any of your stories in the comments. I just have a few links to leave you with today:
If you have any inspirational links or just awesome articles to share please do so below. Have a great Veterans Day! Or regular day and also an amazing weekend!