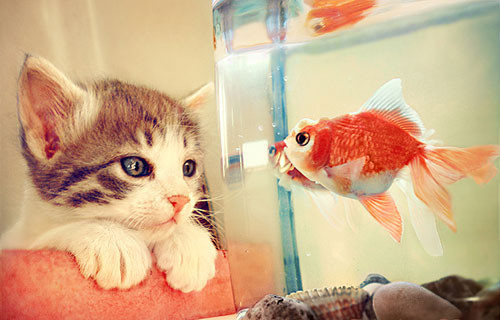 I am very talented at killing things. I have had several pets that didn't make it, including a handful of goldfish, two turtles, and a crab. Well, if you need help keeping something alive let me tell you what I have learned from my mistakes!
First, many dorms and apartments don't allow pets like kittens and cute puppies. However, most don't mind an aquarium fish!
If you are going to get a goldfish, follow these tips!
1. When adding water to the fish bowl, don't take it straight from the tap.
Instead put some into a cup or glass jar and let it sit for at least 24 hours. This will get rid of any chlorine, and will consequently not kill your little pet!
2. Don't clean out the tank, like ever.
I know this may sound gross, but trust me it works! Year after year my fish died within a month. Then my aunt told me that fish like to eat their bacteria. She had one goldfish that lived 10 years, and only died because he got bloated due to a toddler pouring the ENTIRE container of fish food! I have lived strong by this rule for a year now, and my little fish Hector has not died! That is a record!
3. If you must clean out the tank, only wipe down one side with a rag.
4. Be consistent in feedings. I keep Hector in the bathroom, so I see him often!
5. If all else fails buy a plant. I would suggest bamboo or an orchid.
Bamboo requires light and water, and if you keep it by the sink it is a very easy reminder.
Orchids can be watered one a week! I use three ice cubes to water mine.
6. If you can't keep a fish, orchid or bamboo alive go with a cactus. That's gotta work…
What Do You Think?
Does your dorm or apartment allow pets? Will you consider getting a fish after reading this post? Leave a comment and let us know!