The shoes for summer this year are absolutely adorable, but as a college girl on a budget, buying the first gorgeous shoe I see (no matter what the price) is not always the best option. I am a self professed shoe-a-holic, but no matter if you have more shoes than you can count, or if you're just looking for an alternative to your always handy, go-to Rainbow sandals, these options will let you have the fun flirty style that is so popular this summer, without breaking the bank.
Neutral Heeled Sandals
Neutrals are super popular this summer and for good reason. They elongate the leg tremendously when worn with shorts, skirts or dresses, and they are very versatile. My favorite way to wear them is with white jeans. Neutral pumps will have the same effect, but the sandals this summer are awesome.
Lust: Burberry Prorsum Leather Platform Sandals ($795) at net-a-porter.com.
Must! DSW ($70), Amazon ($56), and Amazon ($50)
Colourful Flat Sandals
Flat sandals are definitely a good alternative to your default Rainbows. They are usually very comfortable, easy to slip on and can make a t-shirt and jeans look like you put a lot of effort into your outfit in the morning. I like colourful ones because they are so feminine and fun, and it is a great option if you want to add more colour to your wardrobe.
Lust: Prada Flower Thong Sandals ($495) at Barney's.
Must! DSW ($45), DSW ($40), and LuLu's ($20)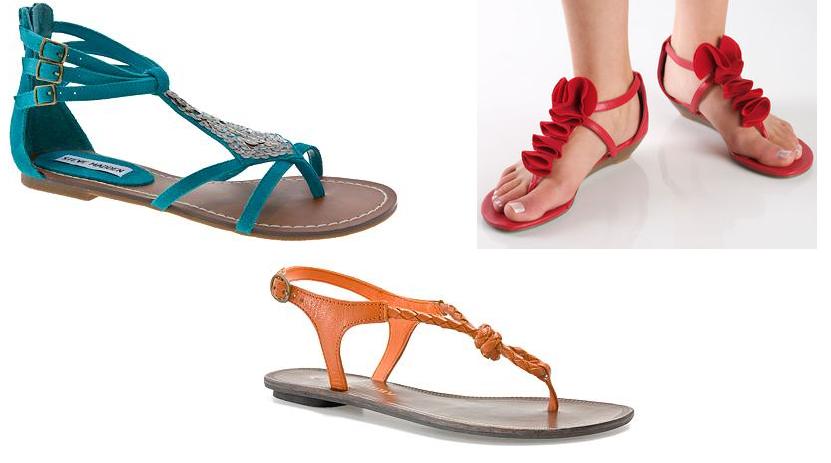 Cowboy-style Boots
I just bought a pair of these (the first one on the must list), and I have already worn them in. For summer, they can add a little twist to a pretty floral dress or denim cutoff shorts, but they also look great with jeans, so you can wear them all year round. Since boots tend to be more expensive, you get the most for your money!
Lust: Lucchese N8739 5/4 Cowboy Boots($375) at Zappos.
Must! Steve Madden ($100), Zappos ($102), and DSW ($120)
Rain Boot
In most places, summer means random thunderstorms and rain on occasion, and life can't stop just because Mother Nature says so. To look cute in the rain, you need great rain boots or wellies. The great part is that rain boots are very popular right now, and there are a ton of options. I own some black ones that I bought because they are functional and can be worn with everything, since it rains a ton where I live, but patterned ones can be fun too!
Lust: Jimmy Choo "Hunter" Rain Boots($425) at Nordstrom.
Must! Macy's ($42), Shoes.com ($54), and Target ($30)
Cut-out Flats
Again, cute and feminine, and also versatile – a great take on the every day ballet flat. They come in a ton of colors, and they are a good investment because they can be worn in multiple seasons. While I am all about buying cute, cheap shoes, sometimes cute flats can be very uncomfortable and/or break easily, so I would recommend trying flats on and looking at how they are made before buying.
Lust: Belle by Sigerson Morrison Knot Ballet Flats($425) at Nordstrom.
Must! Amazon ($25), Urban Outfitters ($34), and Yesstyle.com ($60)
What Do You Think?
I'm sure I missed some great summer shoe trends. Which ones are your favourite?
PS: This is my first post, and I am so excited to be a contributor!  Looking forward to hearing from everyone!