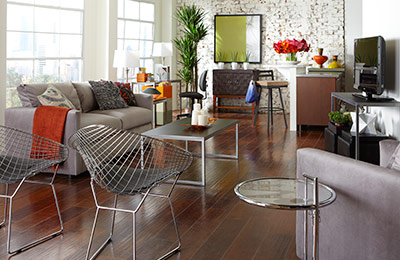 Disclosure : This post is brought to you by CORT Furniture Rental but the thoughts and opinions expressed are that of us here at ECG!
Moving away to school is arguably the most stressful thing most of us are going to face in our young adult life. It's a big deal, you pack up your things, say goodbye to Mom and Dad and head out on your own (for most of us) for the first time ever. There is a lot to it and no matter how prepared you might feel, it's unavoidably and overwhelmingly a tough transition. We here at Every College Girl want to share with you a few tips and tricks to help make that transition just a little less painful.
First of all, unless your parents are throwing all of your things away and turning your old room into a yoga studio the day you leave, be ruthless about what you decide needs to come with you to school. I'm sure your entire collection of jackets/shoes/stuffed animals is a thing of beauty, but in a tiny dorm room or small student apartment, you'll quickly discover that 35 pairs of shoes take up a lot of space! Take only what you know you're going to need plus 2 to 3 comfort items, and of course don't forget your greek paddles. Bring your photo album and that really tattered old blanket that your grandma knit you when you were 12, but leave behind the other 300 items that mean the world to. You may think you'll need them, but believe me, you're going to be way too busy to notice their absence and you'll be thankful for the extra space later! If leaving those extra things behind really isn't an option, put them into storage! The second HUGE stress that most students face is furniture. The majority of us don't have a huge amount of money to go out and buy ourselves everything new that you need to be comfortable in your new home away from home. Sure garage-saleing is fun, but realistically you probably won't be spending your last summer at home searching through your neighbor's furniture rejects! So if you don't have the money to afford a new everything, you're not sure if you want to sleep on a bed that your great aunt passed away in, or if you'd like to avoid the huge moving costs of getting your childhood bedroom set to your new school, CORT Furniture Rental could be for you!
If you decide to rent furniture, it could be a great solution for any times of transition. You have more time to focus on yourself when you're not busy worrying about getting all of your furniture from one place to another in one piece. With CORT Furniture Rental you don't have to worry about any of that. They handle delivery and set up so you're no longer at risk of dropping your dresser on your toes or scrapping the paint off of your desk in the move. They have student pricing packages available so you can get the stylish dorm room you want at a price that's comfortable. Check them out for yourself here! Our final tip to make the move away to school as painless as possible is to go easy on yourself. Get prepared and packed and have things that you can count on set up, like CORT Furniture Rental and help from your bestie, but be aware that you're taking a step out into a much bigger world than you're probably used to. Not everything is going to be under your control or as you think it should be, so being prepared for unexpected things to happen like your roommate showing up three days late or your parking space being a 30 minute walk from your front door can make it much less painful. Roll with the punches, smile and try to remember every detail! You'll be looking back fondly on your crazy freshman year in no time!