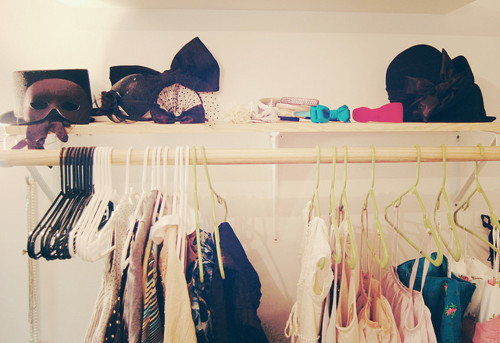 photo credit
Magic Hangers are basically black, plastic, cascading hangers. They provide a closet with more space and uniformity, allowing you to have a prettier closet (with more room for clothes). I received some Magic Hangers for Christmas, and here is my review of the product.
Pros:
They give you so much space
You can hang five garments on one hanger. These hangers really make the most of vertical space in your closet – have you ever noticed how much you have?
They provide uniformity
AKA…they look pretty! I LOVE looking in my closet and seeing matching hangers, surrounded by an array of colorful clothes and shoes.

They make organizing easier
When I first got them, my closet became so organized. Over the weeks, that organization has been a bit lost within the cramped space of a dorm closet, but the theory behind it remains. You can organize your clothes by type, color, fabric – whatever you like. I have mine organized by type, length, and casual-ness.
You can plan your outfits on them
Every Sunday, I plan out my outfits for the week. With the Magic Hangers, I can fit three or so hangers into one "slot," making an entire outfit. I hang my Monday-Friday outfits on one Magic Hanger, and in the morning, I just choose the outfit I want to wear. So much easier than digging through my closet in the morning!
Cons:
They break
Okay, this was kind of my fault. I had four winter coats on one hanger, shoved into the back of my closet, and getting a coat off was a bit problematic. After tugging on the hanger countless times, the top part snapped. So, my bad. However, I've read from other people that their hangers break, too, which is why I'm including this. But please note that I have several heavy articles on one Magic Hanger and they haven't broken again!
Verdict:
I love Magic Hangers! They are TOTALLY worth the buy! They make my mornings so much easier, and my closet so much happier. I actually have several packs of Magic Hangers, enough to store my entire closet and then some. Without Magic Hangers, I would undoubtedly have overflow. I cannot recommend these hangers enough if you're an organizing junkie or just need a little more room in your closet!
Where to Buy:
I bought my hangers from Amazon.com, where $25 worth got me free shipping. (You end up getting more at Amazon if you purchase $25 worth of hangers, because other stores offer less hangers at a cheaper price, but shipping costs brings it to around the same.)
What Do You Think?
Have you tried Magic Hangers? What did you think? What did you think of our review? Leave a comment and let us know!