If you haven't caught on from my last few posts (and the number of days in between them) I'm swamped with end of the year work right now. If you're in the same boat, you'll appreciate today's post on quick and easy Spring waves so you can sleep in that extra 10 or 15 minutes (so worth it).
Step 1.
This has to start the night before you want to wear your natural bouncy waves. If your hair is dirty or greasy, have an evening shower and wash it.
Step 2.
Spritz some heat-protection spray on dry locks, focusing on the ends, which can be dry and get fried more easily.
Step 3.
Divide your hair into two layers, a top layer and a bottom. Pin the top layer out of the way.
Step 4.
Curl the bottom layer using a 1-inch barrel curling iron. Clamp the iron on the end of a 1-inch section of hair and roll up, then hold for 30 seconds. Continue, switching the direction you roll the hair up (sometimes towards your face, sometimes away from it), until the bottom layer is completely curled.
Step 5.
Repeat step 4 with the top layer.
Step 6.
If you have naturally curly hair, you can skip this step, otherwise spray some touchable hold hairspray all over your hair, again focusing on the ends. The straighter your hair is, the more hairspray you will need, just don't go crazy: 1-3 squirts for each side of your head is plenty.
Step 7.
Now you just go to bed and sleep on your curls. When you wake up in the morning you will see they have relaxed from tight pin curls to soft, sexy waves. Try not to touch your hair too much at this point: just before you leave for the day, touch up any flyaways or messy areas with a tiny dot of smoothing serum, warmed up between your palms.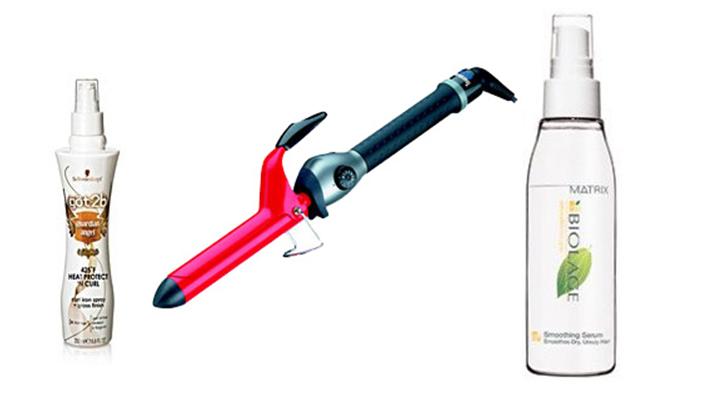 Got2Be Guardian Angel Heat Protect Spray, Babyliss Pro TT Tourmaline Curling Iron,
Biolage Smooth Therapie Smoothing Serum

What Do You Think?
Will you be trying my method for easy, sexy, Spring curls? I'm definitely doing this tonight, seeing as I have a 9:30 a.m. class tomorrow. Any extra Zzzs I can steal make a world of difference. Leave a comment and let me know how you do your hair when you're rushed for time!