Selena Gomez knows what she's doing in terms of style – all of her outfits are so wonderfully effortless. She is the queen of oversized shirts, sweaters, scarves, and denim shorts. Her style is relaxed, but she can go from laid back to lady in a split second. To channel Selena's style is seriously so easy, and you probably already have a lot of these items in your closet already!
So, if you want to rock Selena's laid back look, I'm here to help!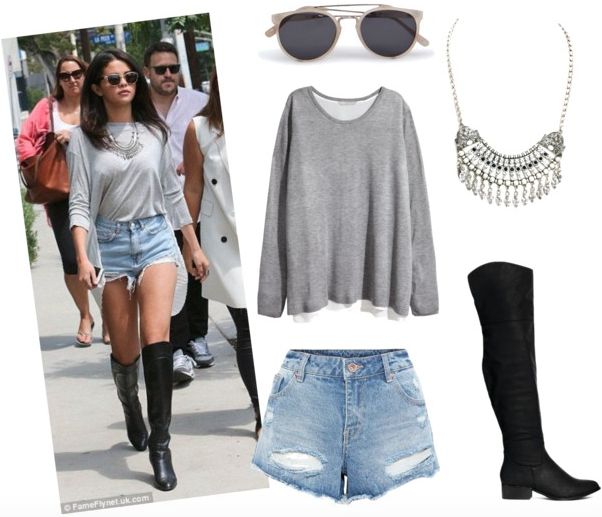 See what I mean? This outfit is so easy and it's perfect for class. Over the knee boots are a trend people tend to overlook when dressing casually, but it pretty much makes the outfit here. Just take an oversized grey t-shirt and tuck the front into your high-waisted denim shorts. Sunglasses and a bib necklace are the only accessories you need to complete this outfit.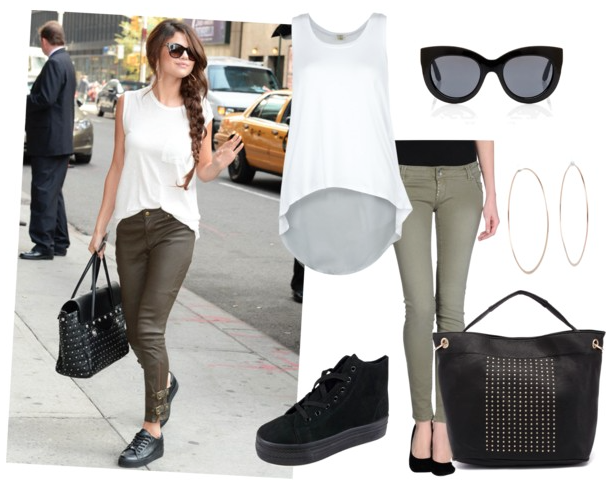 Again, super easy. I'm digging army green for fall, so picking up a pair of jeans or pants in this color might be a good idea. Wear a simple white hi-lo tank top, or just an oversized tank top with the front tucked in (like the first outfit. See a trend here?). Black platform sneakers and a studded black tote will toughen up this laid back outfit. Again, accessories are minimal. Sunglasses and some simple gold hoop earrings are all you need.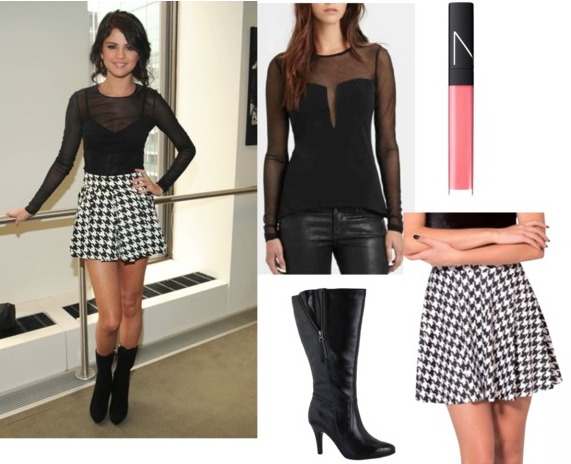 And finally, a more polished look. You'd think it would be hard to pull off a black mesh top, but she makes it look super classy with a high waisted houndstooth skirt. Selena really does rock the boots, so just pair your outfit with some mid-calf boots (high or flat, doesn't matter). Then gloss your lips with some bubblegum pink gloss for a finishing touch, and you're done! Extremely classy outfit, but still very easy.
What do you think?
Who's style would you like to steal?