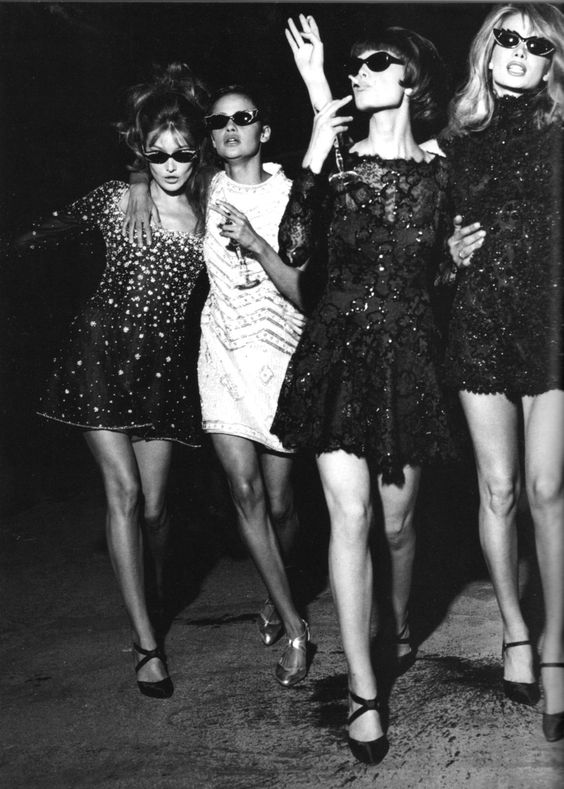 Ahhh…girls night out, we all look forward to it! A night consumed of fun, laughs, drinks, and possibly some crying, but that's if the night gets really crazy. The hardest part of girl's night is the preparation. Do you wear classy and elegant, or clothes you are able to get down and dirty in? So many hard decisions!
Luckily the Every College Girl team has done your thinking for you. We have put together three styles from classy to sassy to cover all your needs. So raise your hair brushes to a night full of memories, a night some would call lame (men), to us it's, girl's night out!
Classy Chic

The words classy and chic describe this outfit perfectly. The vibrant red pumps paired with this snowy white dress will outline that beautiful figure of yours no problem! Let's not forget the blood red lips with those studded diamonds are sure to make your stunning smile shine all night. If you decide to create this look for your night out, please remember the clutch! The clutch in this look is the lace in a shoe, the buckle in a belt, the underwire in your bra…you catch my drift. The clutch ties this outfit together giving it the completed look.
For extra class you could also try wearing your hair in curls. Whether you decide to let your hair breathe for the night, or hold it hostage in a pony, the curls will add extra chicness and bounce, a perfect fit to match this wavy, bouncy, flirty dress.
Beauty in Black

In case you are wondering, this is our down and dirty outfit of choice. It adds a sense of comfort, yet exudes sophistication. The hot pink heels matched with Mac's "Soho" pink lipstick will have everybody turning your way.  As girls we all know that black is slimming, so envision how great this all black outfit will look on you, and not to mention what those black pants will do for your booty! In this look, the little lace crop top goes perfectly with these high waist slacks. Usually a little crop top might have you thinking this outfit may be a bit, well… slutty, but adding a high waist pant gives girls the ability to be sassy and classy.
Let's move on to the sparkle and shine in this look…Kate Spade and pearls. The gold clutch by Spade adds sparkle, and the pearls add the shine. Both combined will not only give your outfit pizzazz, but also get you noticed, hands down. Girls love sparkle, and sparkle loves us!
So go ahead ladies and put on those pink pumps and call them your dancing shoes because that's all you're going to want to do when wearing this black on black ensemble.
Simply Sweet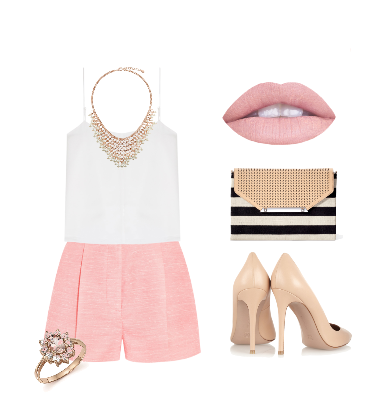 Gorgeous… That is the one word for this outfit. We absolutely love this simple and sweet neutral colored look. Add fashion guru, Stella McCartney to your look with these baby pink shorts. Pairing them with a basic white top will make them and you stand out. A subtle heel is a must for this outfit. Nude heels work with just about any outfit and have a low chance of really ever going out of style. Which ever outfit you choose for the day, remember, an outfit works best when it's balanced, and that is exactly what this heel does for this look.
When picking a neutral outfit this gives you the power to decide on accent pieces of many colors, and this can be very fun. Take the clutch in this look for example, by adding a hint of jet black to your style, this practically makes the clutch scream with glee. Not to mention, it gives your look a confident attitude.
Now onto the diamonds. They say diamonds are a girls best friend and they aren't joking. I speak for every girl out there when I say we love them and would marry them.  When mixed with rose gold for this style, diamonds can be shown as more than just accent pieces. Adding a chunky necklace will help to take that basic white top from plain to amazing. As for the ring, well, who doesn't want a giant sparkly thing on their finger?
Lastly but most important, don't forget your lips for this look. Pairing your lip color with your baby pink bottoms will help balance the look. A soft pink lip is the perfect balance between sexy and cute, and goes great with bold eyes. With this look you may want to whip out your liquid eye liner and blackest mascara because dark daring eyes and pale lips equals stunning.
What do you think?
Are any of these styles something you would pick for your girls night? What are your go-to garments for a night out on the town? Comment below so we can have a fashion frenzy!