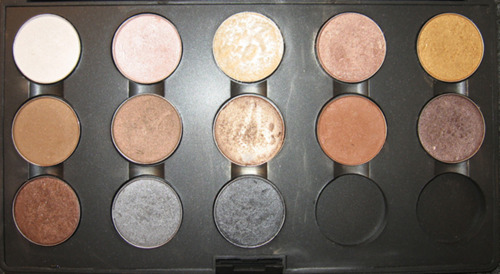 It's no secret that the eyes are what captivate and mesmerize, as well as stand out as the first part of us to be noticed. So why not make them stand out in all their brilliance? Magnify the power of your eyes with the right eyeshadow color to compliment your eye color. If eyeshadow isn't your thing, try these colors in an eyeliner.
As a rule of thumb, complimentary colors are often on the opposite side of the color wheel from one another.
Green eyes
If you're like me and have green eyes, you know green can be tough. Some days our eyes seem brighter than others, and greens come in all shades. Regardless of your tone, purple and burgundy shades are a must.
From plums to light lavenders, any shade of either purple or burgundy goes a long way. You can also pair a lighter color with a plum eyeliner for a smokey look.
Brown eyes
Brown eyes are great in terms of versatility, you can really go with just about any color. To really make brown eyes pop though, focus on neutrals like shades of brown or a purple taupe. Brown is enhanced by taupe and neutrals, so add depth to your chocolate brown eyes by layering and blending.
Hazel eyes
Some days you're greener, some days you're more brown, so what eyeshadow should you grab? Neutrals with a pink undertone. Any brown shade works great, but if you want to go with something with a little more color without drowning out the brilliant hazel tones go with a soft pink to really make them shine.
Another benefit of hazel eyes: metallics. If you're feeling a bolder or more edgy look, don't shy away from gold or gold shimmery tones.
Blue eyes
Sweep some copper tones and blue tones to perk up your baby blues. Warmer tones bring out blue pigments in your eyes, while blue gives your eyes more depth and makes them look more full.
Blue eyeliner also goes a long way with blue eyes, for a simple look simply add a little light brown eye shadow to your crease and smoke out blue eyeliner.
What do you think?
What color are your eyes? What eyeshadow shades are your go-to? Do you have any other tips to amp up your eyes? Let us know in the comments section below!