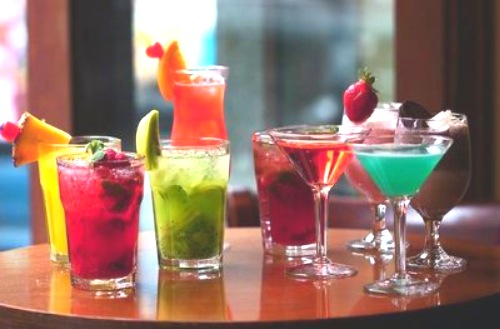 photo credit
Here at Every College Girl, we're all about the sexy summer (in case you haven't noticed). What better way to kick of a sexy summer than with a fun bbq or bonfire with all your friends, and some delicious, summery cocktails? Read on for our picks for simple, delicious, and very sexy cocktails.
Watermelon Punch
I love watermelon, and it's such a summery flavour. Simple take 1/4 of a large watermelon and cube it up. Throw it in a blender with 1/2 cup of water to make a watermelon purree. Squeeze 1-2 limes and add the juice to the mixture, along with a drizzle of honey. Add a couple shots of watermelon-flavoured vodka (1-3, depending on how strong you want it), and add water if needed to thin it out. Pour into a tall glass and garnish with a slice of lime for a refreshing cocktail that's sure to be a summer hit.
Pineapple Mojito
If you prefer rum over vodka, try out a classic summer recipe that's a favourite it hot and sexy Mexico, but with a tropical twist. Take 1/4 cup of fresh pineapple, cut into pieces, and 8 sprigs of fresh mint. Throw into your blend and pulse a few times to mush them up together. Add half a shot of simple syrup (learn how to make it here), the juice from a lime, and a shot of lime soda. Finish with 2-3 shots of rum, mix with a spoon rather than blending, and pour over ice. Garnish with a piece of pineapple and a mint sprig for a refreshing tropical treat. (If you're feeling really adventurous, serve this drink Hawaii-style in a hollowed-out pineapple)

Strawberry Margarita
We already gave you instructions on how to make the perfect margarita, now take it up a notch with addition of fresh, ripe summer strawberries. Follow the directions for our classic margarita recipe, but this time, muddle (a fancy way of saying mush up) 2 whole strawberries and add at the end, giving a good extra shake or two to blend the strawberries in. Make sure to rim the glasses with sugar, not salt, as this is a sweeter take on the classic cocktail.
What Do You Think?
What is your favourite summer cocktail? Will you try any of these recipes? All of these make great mocktails, by the way, if you're a designated driver, underaged, or just a non-drinker: simply make the recipe without adding any of the alcohol!