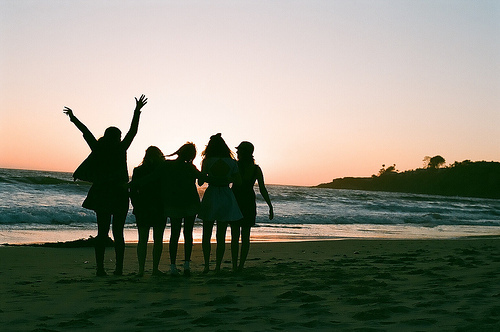 photo credit
The sun is finally shining, time to break out the sunny summer clothes! The best part is, you don't need to buy 3 or 4 different dresses to get 3 different looks. With the rights accessories, you can make one sundress do triple-duty all summer long! Read on to find out how…
Look #1: Summer Job
If your summer job doesn't require a uniform, it can be fun to dress up a breezy summer sundress to wear to work. It's a look that is summery while still being work-appropriate, and gives you a chance to show off your sunny personality to your boss and co-workers. The blue cardigan pulls a colour from the skirt to make it pop, and the little bow is a really cute touch. Add some tights if your work is air-conditioned to give the look some depth. Pair this look with some sturdy, supportive flats if you'll be on your feet all day, and finish off with a preppy bag and bow.
dress: Modcloth, cardigan: New Look, tights: Wet Seal, flats: Mark's Work Wearhouse, bag: My Hollywood Closet, bow: Torrid
Look #2: Summer Romance
Whether it's a sexy fling with that new lifeguard at the beach, or a romantic reunion with your long-term, long-distance boyfriend back home, everyone loves a good summer romance. Take your sundress from work to date night by ditching the fussy cardigan and tights for some strappy heels and a summery necklace. Throw on some eye-catching earrings and a dash of coral lip stain for a look that's casual, sexy, and summery!
dress: Modcloth, sandals: Bebe, necklace: Forever21, earrings: Charlotte Russe, lip stain: Sephora
Summer Shopping Spree
You may not need to invest in any more sundresses, but that doesn't mean you won't think of countless other excuses to go shopping this summer–that summer job money tends to burn holes in pockets and purses! Keep it cute and casual with a loose flowy blouse nipped in with a crocheted waist belt. Throw on some pretty sandals and don't forget the playful tote so you can haul all your cute finds home without having to pay for an enviro-unfriendly plastic bag.
dress: Modcloth, blouse: Abercrombe & Fitch, belt: Charlotte Russe, sandals: Victoria's Secret, tote: Delia's
What Do You Think?
How do you wear your sundresses? Are you excited for summer clothing? Leave a comment and let me know!