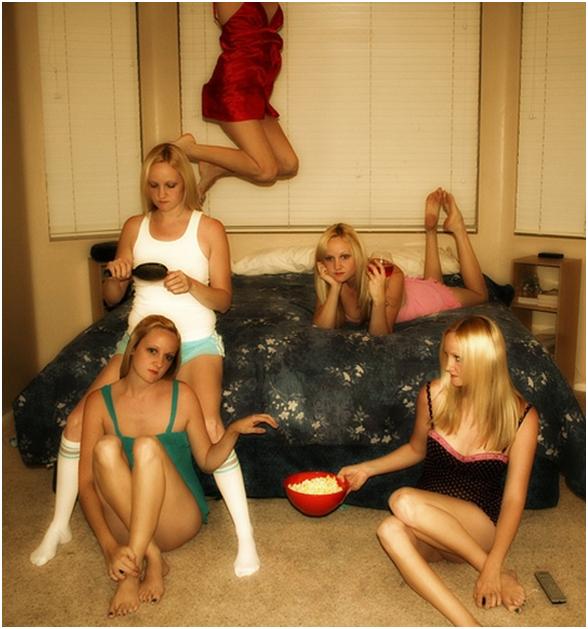 Who doesn't love a good chick flick? And with exams, final essays, and all the stress that comes with the end of the year, having a girl's night in can be a great way to decompress on a Saturday night. Make some slushy drinks, pop some popcorn, and grab your favourite movie treats from the corner store then curl up on the couch with your best girlfriends and roomies for a night of giggles, tears, and slumber-party nostalgia that's the perfect way to de-stress. Here are my top 5 picks for chick flicks (in no particular order):
A Walk To Remember
Ahh, Nicholas Sparks. He knows how to write a book, that Hollywood turns into a blockbuster movie, causing millions of women everywhere to simultaneously swoon and ball their eyes out. His representation of love in any of his books can put any boyfriend to shame. A Walk To Remember is a personal favourite because it's slightly less mainstream than The Notebook, and will remind you of middle-school days with your bedroom walls covered in posters of Shane West (what ever happened to him anyway?)
Best Line:
Landon: "I might kiss you"
Jamie: "I might be bad at it"
Landon: "That's not possible."
The Devil Wears Prada
I might be a little biased, seeing as working for a major fashion publication is my dream job, but this is one of the best movies of all time. An all-star cast (Anne Hathaway, Meryl Streep, Emily Blunt, oh and a little model name Gisele Bundchen) and an interesting, real-life plot is enough to keep you glued to the screen. Besides all that, the outfits in the movie are way above par, and what stylish college girl doesn't love a good makeover scene? (Don't you just wish you were Andy when she walks into the office with her new couture clothes and her chic blunt bangs? Looking good really is the best revenge).
Best Line:
Emily: "I'm on this new diet. Well, I don't eat anything and when I feel like I'm about to faint I eat a cube of cheese. I'm just one stomach flu away from my goal weight."
Legally Blonde
People laugh when I tell them this is my favourite movie of all time, but they just don't appreciate the sense of female empowerment that comes from Reese Witherspoon in a hot pink skirt suit. Legally Blonde is full of fluffy comedy, predictable romance, and just enough mystery and court-room confessions to make it beat out a rerun of CSI. Don't forget the memorable moments, like the bend-and-snap, anyone? Whether you're blonde, brunette, redhead, or whatever, I think every girl has a little Elle Woods in her.
Best Line:
Margot: "My lucky scrunchie, it helped me pass Spanish"
Serena: "You passed Spanish because you gave Professor Montoya a lap dance after the final"
Margot: "Yeah, luckily!"
Thelma and Louise
This is the perfect movie for girly bonding! If you haven't seen this early nineties classic, you've got to give it a whirl. It's got big music, big hair, and big old southern accents with lots of female empowerment along the way. Not to mention a young Brad Pitt: reason enough to Netflix it, in my opinion. The only problem, it may make you want to fix up a '66 Thunderbird with your girlfriends and head out on a cross-country roadtrip asap!
Best Line:
Louise: "I'm in deep shit; Deep Shit, Arkansas."
10 Things I Hate About You
Honour the late Heath Ledger, enjoy the later nineties fashion, and study for your Shakespearean drama exam all at once. This was one of my favourite movies in my pre-teen days, and everytime I watch it brings back all kinds of nostalgia. I can't believe I actually envied Bianca's clothes and hair, they are so dated now! Plus, after seeing where Heath's career went (and was tragically ended) it's fun to see some of his earlier work and gain a whole new appreciation for this brilliant actor.
Best Line:
Bianca: "Can we, for two seconds, ignore the fact that you're severely unhinged and discuss my need for a night of teenage normalcy?"
Walter: "What's normal? Those damn… Dawson's river kids sleeping in each other's beds and what not?"
What Do You Think?
Do you agree with my list of top five chick flicks? What are your favourite girly movies? How do you plan to unwind during exam period? Leave a comment and let me know!