Just because you're roughing it, doesn't mean you can't look cute while you do it. Below I've created three adorable, yet practical outfits for a fun, end-of-summer glam-ping trip, complete with packing tips!
Sunny Day
This is basically my summer uniform, and it's perfectly casual and carefree enough to take on a camping trip. A simple tank and denim shorts combo gets a girly boost from the bow detail and the braided belt. These sandals are just as comfy as your flip flops but with a smidge more style, and don't forget your bold bikini and towel for dips in the lake!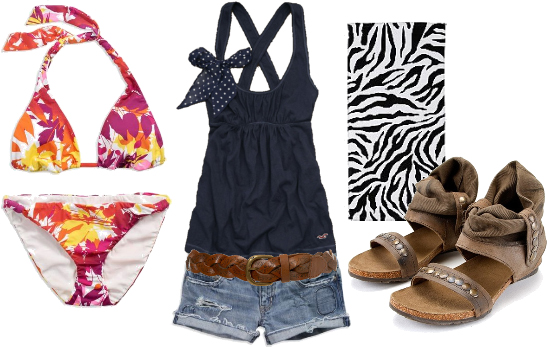 Bikini, Tank, Belt, Shorts, Towel, Sandals
Rainy Day
I would hope that you had the forethought to check the weather report before packing up your Coleman, but sometimes a rainy day is unavoidable. No worries, playing cards and sipping coolers under the tarp (or in the tent) with your pals still beats a day at work, and you can look cute, to boot! Tuck these breezy, cool linen trousers into your rain boots and pair with a summery top to beat the humidity. An umbrella, though necessary, need not be boring (I owned this exact one in high school!),and grab a casual hoodie in case the temperature drops after the storm.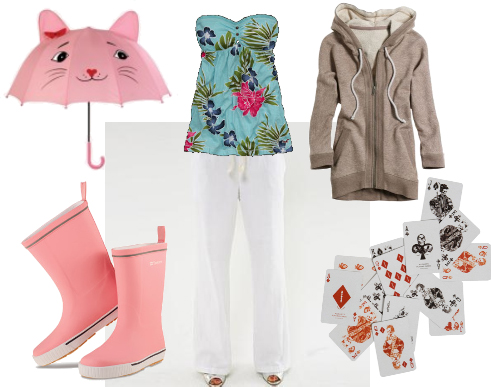 Umbrella, Boots, Top, Pants, Sweater
Starry Night
As we approach the end of summer, nights are getting cooler, so it's a good idea to bring a few extras to bundle up when the sun goes down, without sacrificing style, of course. Start off with a comfy, worn-in pair of skinny jeans. I love the bold colour (a nod to fall trends) and feather details on this top, that complement the moccasins (I love moccs!). This cozy sweater makes me almost long for cooler fall nights, and if you bring only one piece of jewellery camping, let it be these cicada earrings!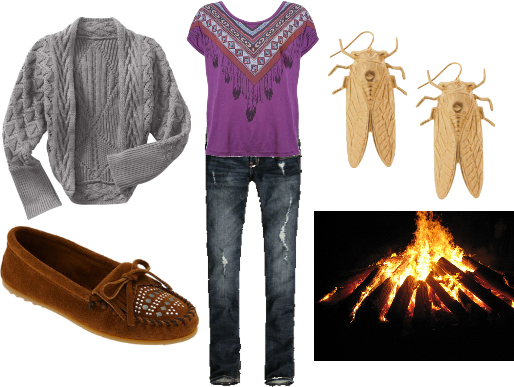 Sweater, Moccasins, Top, Jeans, Earrings
Tips for Packing…
Don't bring your best stuff. Face it, you're more likely to tear, stain, burn, or otherwise ruin an item of clothing while roughing it in the forest, so leave your designer duds at home.

Mix and match. With all the food and gear you have to lug with you, the last thing you want is a 10-lb suitcase. Bring pieces you can wear multiple times and mix and match with each other to create new outfits.

Bring toiletries with a twist: facial cleansing clothes keep you from having to find a bathroom in the dark to wash your face before bed. Environmentally friendly shampoo and body wash help protect the soil and water that the camp shower may be draining into. Finally: extra toilet paper never hurt anybody.

Skip makeup, or at least keep it minimalist: waterproof mascara and tinted moisturizer (with SPF) can go a long way.
What Do You Think?
Have you been camping this summer? What did you pack/wear? Planning a trip? What are you going to bring? Leave a comment and let me know!