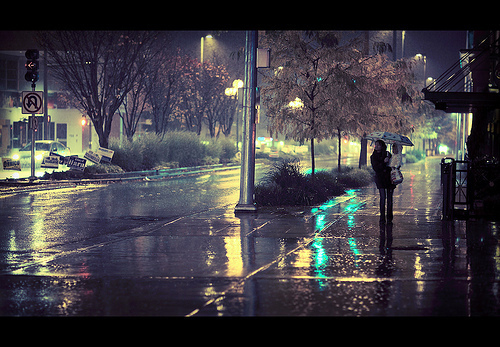 With Labour Day having just passed, 'tis the season of rain! Damp days can dampen not only you, but your style. How do you dress when you know you're probably going to be dodging puddles and toting around a bulky umbrella all day? Read on for a few tips and outfit ideas!
Never underestimate the power of a rain boot. It will keep your feet and the bottom of your pants warm and dry, and they can totally be worked into your outfit seamlessly!
An umbrella doesn't have to be boring! Of course there's your basic black variety, but umbrellas can be cute. Try one in a fun print or crazy colour.
Brighten up the dark day with a punch of colour. Red, yellow, hot pink, turquoise – whatever color pleases you, take advantage of the dark background to really make your outfit pop!
Hot Weather Ideas
Dressing for the rain in hot weather can be difficult. In the winter, all you have to do is throw on a few layers and a pair of boots. In the summer, however, you have to work harder to make your rain gear work. If you find yourself in a casual setting where it's raining, try something similar to this:
Start with your hot-weather basics: shorts and a brightly coloured cami. Add a loose, neutral tank over the cami for a little more pizazz. Choose boots in the same colour as the cami, throw on a ton of colourful jewelry to give your outfit something extra, and grab a cardigan for a little added warmth – just in case the temperature dips unexpectedly! A fun umbrella finishes this look.
If you need something a little dressier, any ol' rubber boots just won't do. You need something cute, classy, and waterproof!  For an idea, check out the following:
For a dressy look, start by taking the feminine essentials: soft colors, lace, and ruffles. Choose a flirty skirt in a pretty color and top it with a ruffled top. (Add a nude cami underneath if you choose white!) Wear neutral, wedge rain boots. A pair like these don't look as bulky and "rainy" as normal rain boots would. Top it off with a pretty cameo necklace and a cardigan in a rich, girly color – I like burgundy! An umbrella with a graphic under the hood is simple but still pretty.
Cold Weather Ideas
A cold, rainy day is the perfect opportunity to show off your style and stand out from every other college girl who'll be wearing a hoodie, jeans, and boots. Don't sacrifice comfort for fashion though – an outfit like this is comfortable and cute.
Again, start with the basics: skinny jeans and a tank top in a fun color. Add a cropped sweater (in a thick fabric) for warmth. (I also add leggings underneath my pants for extra, extra warmth!)  Pick a pair of funky rain boots, like this fun leopard print pair, and pile on the jewelry! Instead of a hoodie, choose something trendier – like this super-warm cape!
Dressing up on a rainy day can be difficult. While skirts and dresses might be your go-to "dressy" outfit, wind often accompanies rain, making skirts and dresses less than modest. But you don't have to give up your dressy look! Instead, try something like this:
Begin with a super-warm turtleneck and add a pair of fancy shorts – classic materials like tweed and a longer, looser length can dress them up. Add thick tights underneath. Try a pair of booties – while they're not technically rain boots, a material that isn't cotton, suede, or anything else that'll get soaked or ruined in water works just as well. Pretty jewelry, like these gold and pink ones, add an extra girly factor. Go for a classically printed (like houndstooth) peacoat. Top it off with a bright umbrella!
One more tip – carry bug spray! It's not the chicest accessory, but it can be a life-saver. Mosquitoes come out when it's hot and humid – like when it's raining during the summer and fall! Whatever your style, don't let the rain hinder it. Just keep these suggestions in mind and stand out amidst the typical college "rainy-day outfit!"
*Please note that some of the items in these outfits are very expensive. They are only meant as suggestions, not to be taken literally. Look for similar items at price points you can afford. :)
What Do You Think?
What are your picks for rainy day wear? Which outfit above most fits your style? Leave us a comment and let us know, and if you have any suggestions or requests for future fashion posts, send us an e-mail at contact@everycollegegirl.com