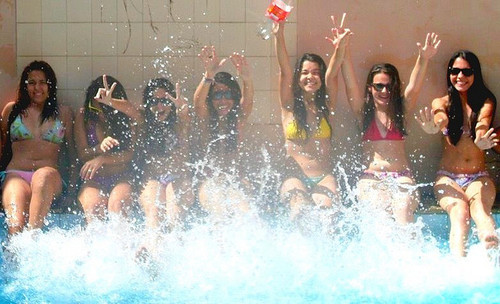 photo credit
Ok, this may sound like a totally lame post. I mean, what to wear to a pool party? Your bikini, obviously! But, bear with me. Think about what you're going to be wearing before you jump in the pool. How about when you're just running in to use the bathroom? What about later when it's time to eat? There are so many elements to a pool party ensemble, I decided it would be a great topic for an outfit post!
Look 1: Making an Entrance
Showing up with your swimsuit already on is so sixth-grade birthday party. Instead, throw your extra wardrobe elements in your adorable summery tote and show up in style to sip a few cocktails and get warmed up before changing to your suit to hit the pool. This look is effortlessly cool and fun, without being too fussy for your to get changed quickly when you're ready to go for a dip.
Tote, Crop top, Shorts, Sunglasses, Sneakers
Look #2: Splishin' and Splashin'
This look is the easiest to rock. Once you have a killer swimsuit picked out, all you need in some sunscreen, a good hair tie, and something cute and easy to throw on for those quick dashes to the bathroom, or to grab a fresh drink. This cover-up is so adorable with its sunset print, and this bikini is so stylish with its nautical stripes. Of course, you can't have a pool party without a pair of Havaianas!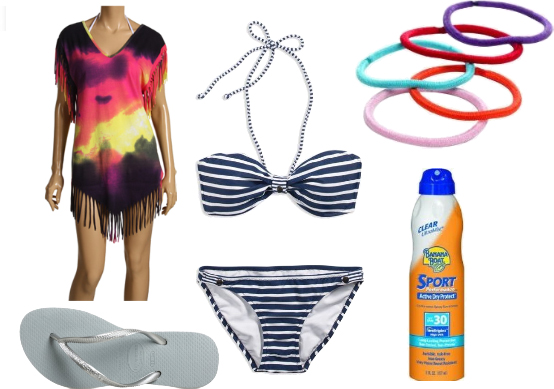 Cover-up, Flip flops, Bikini, Hair ties, Suncreen
Look 3: Back on Dry Land
Don`t let the sunset keep the party from going! Come prepared with an adorable post-pool outfit that will help you look polished and sexy. Pull on this sweet crocheted floral dress and slip on some dangly earrings and bangles. Twist your wet hair back into a bun and pull on this adorable headband. No need to overthink things, your Havainas from earlier will match the grey tones on the dress, while this cosy cardi will keep you warm long after the sun dips down.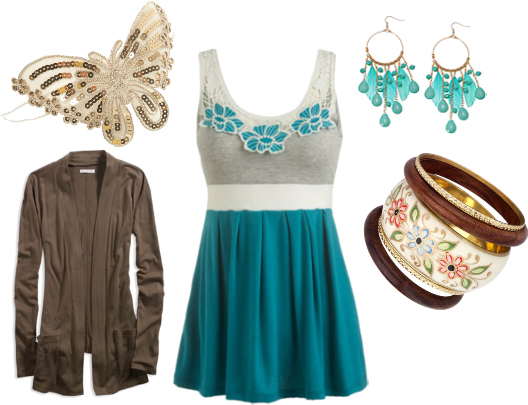 Headband, Cardigan, Dress, Earrings, Bangles 
What Do You Think?
What do you wear to pool parties? Are you heading to any this summer? Will you try any of the looks above? Leave me a comment and let me know!