Who doesn't love blanket scarves? You literally wear a blanket around your neck and it's probably the most comfortable accessory a girl could add to her outfit! Since fall has arrived, this means it's time to open up your chest of knits and scarves, and rock that chic and comfy look. If you are anything like me, that comfy look basically lasts all fall and winter. So as you may have guessed, Every College Girl has brought to you the most adorable blanket scarves that you need to buy for this season, and the best part is that they are all under $40!
1. Oversized Square- ASOS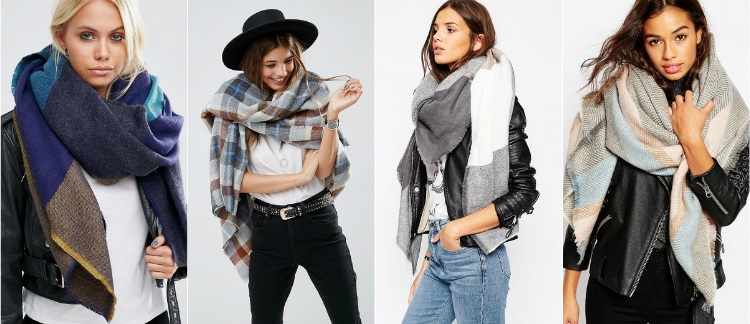 Let's start with the global fashion destination, ASOS. Selling cutting-edge fashion, you are bound to find adorable items on this site. Hence, the cute scarves in the above picture! Although technically not a "true" blanket scarf, they are called "oversized square scarves", which basically means the same thing. Frankly, if it is the size of a blanket, that works for me. $35.90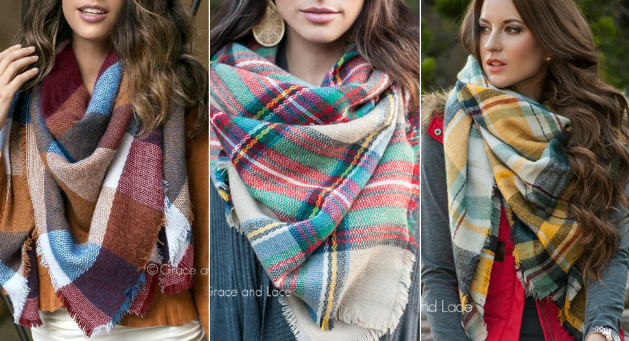 Simply love Grace & Lace. With a portion of every sale going toward building orphanages in India, who wouldn't want to buy their items! They honestly have the cutest clothes, not to mention the cutest blanket scarves. They are so colorful and girly and would be perfect for this fall. Now you may be thinking that adorable scarves like these are probably too pricey for a college budget, but you're wrong! All of the scarves pictured above are priced at $34…you simply can't beat that. When going through this site, don't forget to stop off at the "about us" page. It might make you cry, and possibly make you want to fill your cart with more.
3. Comfy and Fun- Dynamite

Dynamite, meaning these clothes are the bomb! That was cheesy, but you get my drift. Seriously though, these scarves are pretty dynamite looking. Who doesn't love a good old cheetah print blanket wrapped around their neck? Although they are nicely folded in the above pictures, they still look like the comfiest things on this planet, and definitely something we feel you need in your closet! They are also fairly priced at $29.95, except for the scarf on the model pictured above, it's priced at $32.95- still reasonable.
4. Checker Board Beauty- ZARA

Of course we had to include one of the largest international fashion companies in this round up. ZARA's scarves bring the common checker board pattern back to life, and it's trendier than ever. Rock the chic black and white, or the country red and black. Whichever you choose, both are priced at just $29.90, and we promise you will not be disappointed. Plus, they look like a super cute blanket…perfect for wearing by a warm fire on a cold night.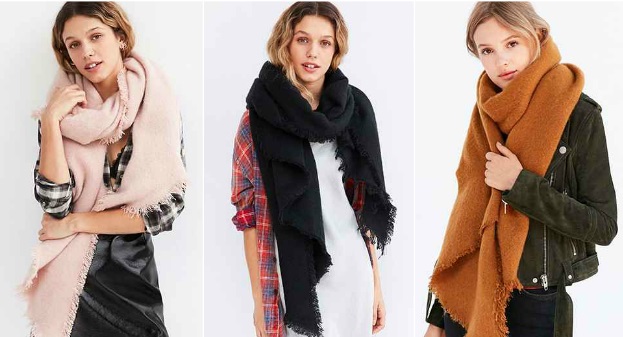 These "Nubby Oversized Blanket Scarves" look so cozy and warm. With 3 colors to choose from, you can pick which one best suits your personality, or if you're like me, you might try to buy one for each day! Come on, a girl can never have too many scarves. Urban Outfitter's have created a scarf that looks like you could live through a blizzard and not feel a thing. They are priced at $39 and probably worth every penny.
6. Dark and Darling- Aritzia

Aritzia definitely amplifies the classy look with these scarves. If a blanket scarf could scream sophistication, Aritzia designed it.
Now I'm sure you're thinking: "Aritza? There is no way these scarves are under $40". Well my friends you are mistaken.
If you want to add one of these beauties to your wardrobe, you have to act fast because they are on sale! Yes, a sale, and not just a little sale, I'm talking huge price cuts. In picture one, this scarf was originally priced at $85 (yikes), now it's $29.99 (that's better.) In the second image, this scarf was also priced at $85, now it's $34.99. Lastly, the third scarf was priced at $95 (yikes x2), now it's $39.99. If you don't catch my drift, hurry your tush up before this sale ends!
7. Perfect for Fall- Le Chateau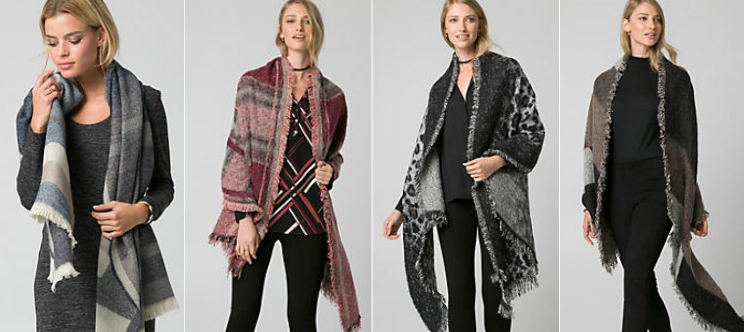 Love Le Chateau, who doesn't? I mean yah, a lot of their prices are, let's say… out of college budget? Good news! Their blanket scarves are in budget and simply adorable (evil laugh). These super cute scarves are priced at $39.95. They look so cozy you may never want to take them off. Like Arizia, Le Chateau has that classy look covered. Trust me, this is always a good thing as we are technically adults now, and not all of our wardrobe can be florescent and bold. So we suggest you have at least one chic scarf in your closet. One day you may need to look "professional", yet adorable, and your current casual college wardrobe probably won't do.
What do you think?
Are you in love with blanket scarves as much as we are? We would love to hear for you!