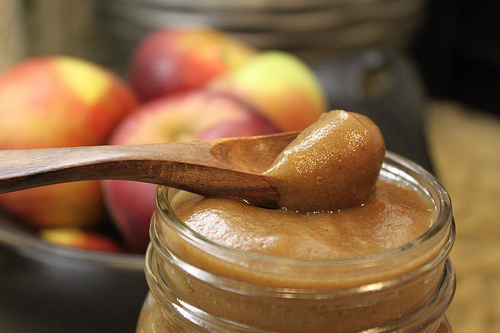 photo credit
If you're starting to get sick of pumpkin flavor – or you just want to mix up your fall treats a little – try apple butter! Apples are in season and delicious, and apple butter is a homey treat that goes great with almost any snack.
What you need (serving size is about 1 pint)

12 apples – peeled, cubed, and cored
1/4 cup of brown sugar
1/2 cup of water
1/2 teaspoon of cinnamon
1/2 teaspoon of All Spice
Preparation
Once you have the apples peeled, cored, and chopped into little cubes, toss them in the crock pot along with the brown sugar and the spices
Throw the remaining ingredients in
Set on "Low" and cook for about 9 hours (makes your house smell great!)
Change the setting to "High"and prop the lid open with a cooking utensil and cook for a few more hours
Once it has thickened, you can blend the butter down to smooth or you can eat it right out of the pot
You can store in the refrigerator or the freezer for long-term storage. Enjoy on bread, pretzels, fruit, or even chocolate!
What do you think?
Have you tried this recipe? What is your take on apple butter versus other flavors? What is your favorite way to eat apple butter? Share with us in the comments section below!