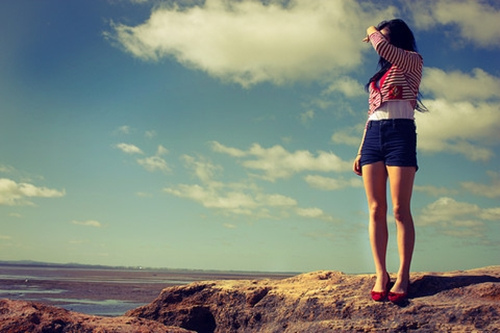 Hey ladies! Well, sorry for the delay. My exams are finally over, yippee! In honour of this momentous occassion, I decided it's time to start pre-emptively looking ahead to summertime! Today I took an item that every college girl has (or should have!) at least one pair of: denim shorts, and show you how to wear them 3 different ways to dress up or down the same pair of shorts, but still be comfortable and have that summer-casual vibe. But, first, I want to show you my fool-proof, no-needle-required guide to getting a perfect pair of daisy-dukes if for some reason you're lacking in the shortened denim department. Here we go:
How to Make Daisy Dukes
First, find an old pair of jeans that you don't mind cutting up. They can be flooders, have a beaten up hemline, or a stain somewhere below the thigh, just as long as the part you're keeping is in good shape, and fits you well.
Put the jeans on and stand in front of a full length mirror. Decide where you would like your denim shorts to sit, lengthwise. Now, take a piece of chalk and mark about an inch or two lower than where you want your length to be (remember: you can always make them shorter, but you can't make them longer once you've cut!)
Take off the jeans and cut along the chalk-line carefully. I find it better to use a very sharp pair and cut through both layers of fabric, but if you have to, carefully cut along the front first, then flip the pants over to line up the back.
Take some sandpaper and rub it along the cut edge to make it fray, and throw them in the dryer to really get them beaten up.
At this point, try them on. You can choose to shorten them a bit (only a little at a time, there's a fine-line between short-shorts and no-shorts) or just roll up the bottom to make a cute hem.
Now onto the fun part: 3 ways to wear your brand new pair of adorable daisy-dukes!
Look #1: Fun in the Sun
Of course the first place you're going to want to hit in your hot new shorts is the beach! Don't forget to lose the shorts if you want to tan though, or you'll end up with some pretty hilarious tan lines (I had these a couple years back, and couldn't get rid of them all summer! You've been warned.)
Bikini: Victoria's Secret, Shorts: Abercrombie & Fitch, Sandals: Urban Outfitters, Sunglasses: Bebe, Bag: DVF
Look #2: Day with Family
If you're hitting up some mini-putt with your little sis or grabbing an ice cream with grandma, you still want to look cute, without over-doing the sexy. This combo below lets you flaunt it a little while keeping it family-friendly: hey, that guy handing out the putters might be kind of cute!
Shorts: Abercrombie & Fitch, Top: Banana Republic, Sandals: Aldo, Headband: TopShop
Look #3: Hot Summer Nights
Who says you can't wear daisy duke's to the bar or a party? In the summertime, I don't see any reason not to. If it's too hot out, skip the tights, but they dress the look up just a bit.
Shorts: Abercrombie & Fitch, Tights: TopShop, Halter: Bebe, Shoes: Charlotte Russe, Clutch: Urban Outfitters
What Do You Think?
Were my instructions easy to follow? Will you make your own daisy dukes? How about the outfits? Leave a comment and let me know! (note: I apologize for the lower quality images, my computer crashed and I lost all my software, including Photoshop, and am in the process of re-installing everything. Things will be back to normal soon)