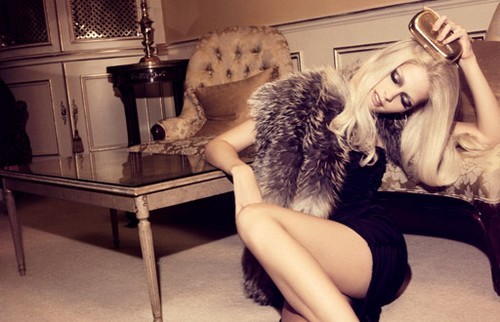 Hey Girls, happy weekend! In honour of school winding down and the weekend dawning on us, I thought I'd go over my tips for a flawless, glam look for a night out. This routine takes into account flash cameras, so you won't have to spend Sunday morning untagging Facebook photos, because you'll look great (note–fabulous makeup does not protect against silly faces).
For more tips on going-out looks, check out my guest post over at Charade on how to transition your look from day to night, or take a look at my elegant everyday eye makeup post for a basic routine that you can glam-up with some of the tips below.
Face
start by covering up any blemishes and puffy eyes by pressing an ice-cube, or a spoon that you've popped in the freezer for a few minutes, against each pimple and under each eye for a few seconds to reduce inflammation
now, add concealer, and your favourite foundation, then top with a light dusting of powder. I like CoverGirl TruBlend minerals loose powder, but I don't use the poof that comes with it. Instead, I use a fluffy powder brush and dip it in the powder, then blow it off before gently applying all over the face, starting with the hairline and working down
Cheeks
now that you've got the flawless skin look, accent it with some bright blush. Don't be afraid to be a little more daring with an evening look, maybe a hot pink instead of your usual subtle rose.
smile, and apply the blush to the apple of your cheeks in a circular motion, working upwards along your cheekbones.
to finish, take a highlighter and apply it to the centre of the apples, smudging it a bit upwards in an arc towards your eyes, smudge a little more down the centre of your nose (the light catches here in flash photos and makes your face look more sculpted and slimmer).
if you went a little overboard, just take a soft cotton ball and gently wipe in the direction that you applied the blush to mop up the extra.
Eyes
first, apply a smudgey black or charcoal liner around your upper and lower lashlines, then add a deep eyeshadow in the shade of your choice (purple, black, emerald, etc) on just the outer corners of your lids, blending it gently towards the centre with a brush
now, take your highlighter and apply it in the middle of each eyelid, right about your iris when you're looking forward, and just under the arch of your eyebrow. Smudge it until it is barely noticable. again, the highlighter with catch the light of the flash making you look glowy instead of washed-out in photos.
to finish, curl your lashes and apply 2 coats of mascara, top and bottom lashes: a coat means you have dipped the wand in the mascara once.
if you really want to go all out, apply a strip of false eyelashes to top off the look and really make a statement (plus your photos will be extra fab)
What is Highlighter??
Highlighter is a type of makeup that is a bright colour and catches light to help define your face. It is my best kept secret in taking your look from good to glamourous. You can pick up makeup that is specifically designed to be highlighters, like Benefit's High Beam, or Anastasia's Brow Duality, or else you can just use a creamy eyeshadow in a highlighting shade, like NARS Soft-Touch Shadow Pencil in goddess. No matter what you choose, remember to apply it lightly and build the highlighter gradually, then blend til it is hardly noticable, or you'll end up looking a little alien-like, a la Alexander McQueen.
What Do You Think?
Do you like my tips? What do you wear for a night out? Do you use it as an opportunity to try out daring new looks? Or do you stick to tried-and-true makeup techniques? Leave a comment and let me know!