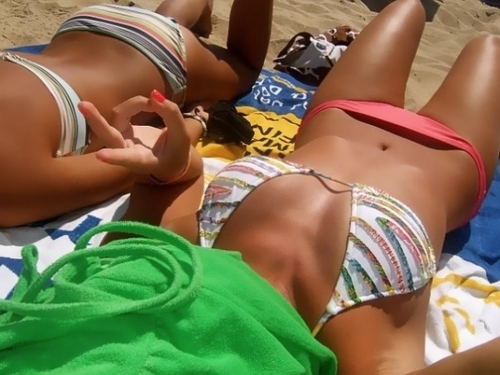 We all know how important it is to wear sunscreen. Not only does it protect against scary skin diseases, including cancer, but it helps keep your skin smooth and wrinkle-free for years, something all of our mothers would likely attest is a disirable trait! So you've got your body covered, what about the rest of you? Sometimes we forget that the sun affects us all over, and our eyes, hair, and face need special protection from the sun and a regular bottle of Coppertone might not cut it. Here are some tips for protecting these special areas from the sun's harsh rays. 
Eyes
The trend in the last few years has been towards big, dramatic sunglasses, which is not only good for our sense of style, but for protecting our eyes. No matter what style of lense you choose, make sure you look for a good quality pair of sunglasses that protects against both UVA and UVB rays. For backup, find a gentle, creamy sunscreen that is specifically formulated for the sensitive eye area, which can get irritated by regular sun screens. I like Kiehl's Ultra Moisturizing Eye Stick, it'll last you all summer for only $20 and provides SPF 30 that glides on easily and won't sting your eyes. 

sunglasses: Forever21, Ray-Ban, eye stick: Kiehl's  
Hair
Although the sun-kissed look sounds good in the theory, the sun can do significant damage to our locks, just like our skin, drying out the strands and scalp. Also, if you've ever burnt the top of your head, you can sympathize with how torturous showering with a pink scalp is. Of course, dipping your tresses in a bottle of Ombrelle isn't going to give the best results, unless you're going for the haven't-showered-since-spring-break look. Instread, spritz on a special hair product designed for sun protection, like Fekkai's Summer Hair Sun Bandana: it protects your hair against the sun's damaging rays, but because it's oil-free, it won't weigh down your hair or make it greasy. If you have trouble finding the Fekkai or a similar product, any type of heat-protectant spray (that you use with flat or curling irons) can help as a last-ditch effort at keeping your hair from drying out, but it won't protect your scalp from burning, so consider wearing a hat, or sitting under an umbrella. 

spray: Fekkai, Matrix, hat: Forever21, umbrella: Target 
Face
If you're lucky, and don't have sensitive skin, you can absolutely use body sunscreen on your face. It makes it easier because you only have to buy one product! But if you hate the greasy feeling, or are prone to irritation or breakouts, then you might need a sunscreen that is specially formulated for the face. Fortunately there are lots on the market in a wide price range. My pick for a discount would be Clean & Clear's Morning Glow Moisturizer, which will run you $5-$7 at Wal Mart or your drug store. It's an SPF 15 and oil-free, so it won't feel greasy or cause breakouts. If you want to spend a little more, I recommend Aveeno's Positively Radiant Daily Moisturizer. This product is a little more pricey, at $15-$20, but it has a higher SPF of 30, so you don't have to re-apply as often, and is made with natural ingredients like soy, which are soothing to sensitive skin. If you want to splurge, why not try La Roche-Posay Anthelios SX. I can barely pronounce the name of this sunscreen, but many dermotologists believe it to be the best sunscreen in the world, and although it is $30, it is still in the affordable range if you're very fair, or just very concerned about your skin. In fact, you may even think twice about sunbathing if you know it requires you to slather a few dollars worth of this product on your face.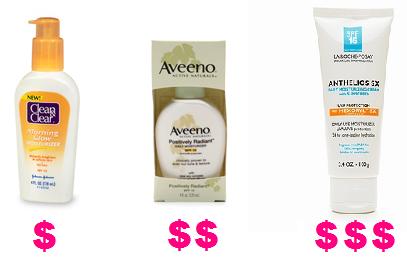 sunscreens: all three, drugstore.com
What Do You Think?
Do you use special sunscreens for different areas of your body? Do you always remember to wear sunscreen before you go outside? How easily do you burn? Leave me a comment and let me know! Happy tanning.