Summer is the perfect time to update your products from heavier winter scents to light, luscious, tropical summer ones. There are so many great beauty products you use in the summer time that come in sexy scents and instantly transport you to a tropical paradise (even if you're stuck in an air conditioned office!) Read on for my top picks for sexy summer scented products.
Perfume
There are lots of fun, summery perfumes available. I like to save some at the end of the summer, then in the dead on winter use a quick spritz of it to perk up my mood and remind me of warmer days. My favourite summery scents are by Escada's fashion fragrance line. Their Marine Groove fragrance is a tropical combo of passion fruit, redcurrant berry, and grapefruit, with floral and musky undertones. It's so delicious, you'll want to wear it morning til night.
Escada's Marine Groove, 100 mL
Deodorant
Deodorant may not seemall that sexy, but it's way sexier than the alternative! Plus, with extra ingredients to make your underarms soft, smooth, and stubble-free, a sexy-scented deodorant is a bikini babe's bff. Secret is a tried and true brand that has been doing major over haul on its scents in recent years. For a flirty summer scent that will keep you dry and fresh even on the beach, try their invisible solid in Coco Butter Kiss.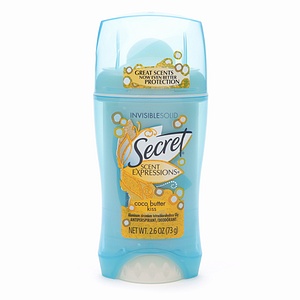 Secret Scent Expressions in Coco Butter Kiss
Dry Shampoo
I've been scouring drug stores and department stores for dry shampoo ever since I first was introduced to this wonder product over at College Fashion. If you are still in the dark about it, dry shampoo is a powdering spray that soaks up oil and dirt on your hair and leaves a fresh scent. Perfect for freshening up after a day on the beach, or in the mornings while camping. The summer gives us a million excuses to use dry shampoo and I luckily stumbled upon a can of Batiste, the original dry shampoo, at Winner's yesterday. I scooped up their tropical scent and love it, so of course I had to share it with you all. Not only is it functional, and smell great, it's super-cheap, about $6-$8!
Batiste Dry Shampoo in Tropical
Sunscreen
I personally love the smell of regular sunscreen anyway. It reminds me of being a kid and running around outside for hours in the summer, jumping through the sprinkler or building sandcastles at the beach, and of course being slathered in 50 spf. If, however, you don't like the chemical, medicinal smell of your typical sunscreen, try the tropical, coconut-y, smells-like-a-tanning-oil-but-isn't scent of Hawaiian Tropic's new Sheer Touch Creme lotion. I smelled a sample of this and it is amazing. It smells like the Hawaiian Tropic tanning oils, but is a broad-spectrum 50 SPF sunscreen. You get the best of both worlds and won't be dying to scrub off the scent at the end of the day.
Hawaiian Tropic Sheer Touch Creme Lotion, SPF 50
Moisturizing Cream
Although I personally suffer from oily skin in the summer, I know a lot of college girls are fighting dry, flaky skin due to the sun and a dry-heat climate at this time of year. If you're ready to update your winter standby lotion, I would completely recommend The Body Shop's Body Butter. It comes in a range of summery scents, but my favourite is the coconut scent. The luscious smell makes me feel like I've been reclining on a tropical beach all day, and the rich, creamy lotion with eliminate any traces of dry skin. This is another product I love to keep for the winter as a snowy-day pick-me-up.
The Body Shop's Body Butter in Coconut 
What Do You Think?
What are your favourite summer-scented beauty products? Have you tried any of my suggestions? Leave a comment and let me know! I love, love, loooove comments (even the not-so-nice ones!)