Are you tired of trying every mascara in the book, only to find that your lashes still fall short of your dreams? Fear not, because we have the ultimate solution to achieving luscious lashes that will make all your friends green with envy!
After putting several lash serums to the test, we've rounded up our 4 favourite picks for the best serums on the market. Say goodbye to clumpy mascara and hello to long, strong, and fluttery lashes. These picks will leave you feeling like the beauty queen you are.
Keep reading to find out which lash serums made the cut!
Best Overall:
Lash Therapy Australia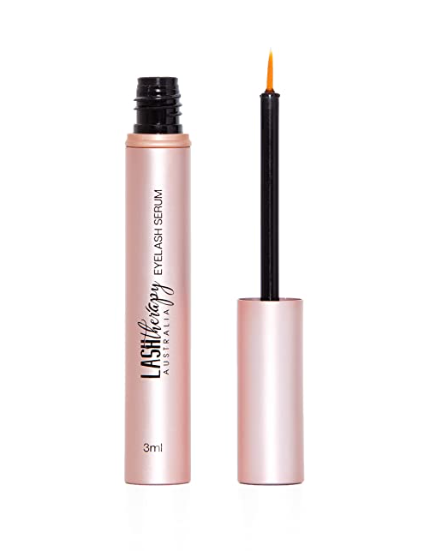 Our top pick for the best overall lash serum is none other than Lash Therapy Australia. This serum truly impressed us with its ability to visibly lengthen and darken lashes, as well as provide some thickening for a more full-bodied look.
What sets this product apart is its use of advanced polypeptides to promote lash growth and improve overall lash health. Additionally, Lash Therapy Australia prides itself on using only natural and safe ingredients, making it a healthy and effective option for anyone looking to enhance their lashes.
With visible results in as little as one to six weeks, this serum is a true game-changer.
Best Runner Up:
GrandeLASH-MD Lash Enhancing Serum
If you're looking for a lash serum that delivers serious volume and density, then our runner-up pick, GrandeLASH-MD, is the product for you. After a few weeks of consistent use, we noticed a significant increase in lash density, resulting in lashes that were more voluminous and darker.
The proprietary lash complex of peptides, amino acids, grape seed extract, and hyaluronic acid work together to promote longer, thicker, and healthier-looking lashes. This serum truly syncs with your natural lash cycle, making it a luxury-level product that delivers real results.
While it took us about 3-4 weeks to notice a change, it was well worth the wait. If you're looking to achieve fuller, more luscious lashes, GrandeLASH-MD is a top contender that won't disappoint.
Best for Quick Results:
RapidLash Eyelash Enhancing Serum
Who says you can't have quick results when it comes to lash serums? Our third pick for the best quick results is RapidLash Eyelash Enhancing Serum, and boy does it deliver. We were amazed to see some magic happening after just one week of use.
While the results may not have been significant, we could definitely see our lashes starting to look fuller and stronger. What sets RapidLash apart is its unique blend of fortifying ingredients. Including Hexatein 1 Complex, polypeptides, biotin, panthenol, amino acids, soybean oil, and pumpkin seed extract.
These powerful ingredients work together to condition, moisturize, and fortify lashes, promoting the appearance of fuller, thicker, stronger, and longer-looking lashes. Plus, it's versatile enough to be used with lash extensions and is ideal for both women and men.
If you're looking for a quick fix to enhance the appearance of your lashes, this serum is a top performer.
Best on a Budget:
TEREZ & HONOR Enhancing Eyelash and Brow Serum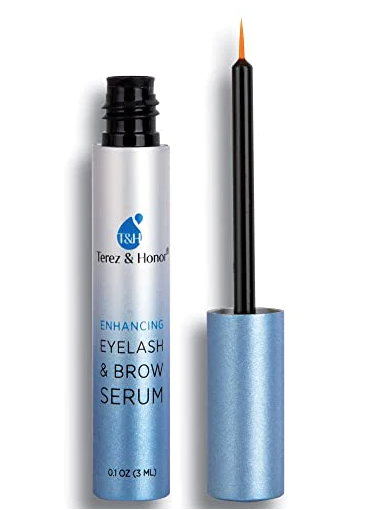 Who says you have to break the bank for great lashes? Our final pick, TEREZ & HONOR Enhancing Eyelash and Brow Serum, is the best lash serum for those on a budget. Available on Amazon (fast shipping, YAY!), this serum is gentle yet effective.
Our lashes thickened and lengthened affordably, with noticeable results in just 4 weeks. You'll be amazed at how much your lashes can grow without the need for false lashes.
Plus, it's safe for all skin types, making it a top choice for anyone looking for a natural and hypoallergenic lash serum.
Time to Unleash Your Lash Potential
We hope our top picks for lash serums were helpful! Whether you're a college student on a budget or a beauty enthusiast looking for the best results, we've got you covered.
With these top contenders, you can achieve the fluttery lashes you've always dreamed of. Say goodbye to false lashes and hello to natural, beautiful lashes with our favorite lash serums.
Try them out and let us know which one becomes your new go-to for fabulous lashes!
What Do You Think?
Have you ever tried a lash serum before? We'd love to hear your thoughts and experiences in the comments below.
Also, if you're interested in learning more about brow-specific serums and would like us to experiment with them next, let us know! We're always on the hunt for new beauty products to try and share with our readers.