Got a few different holiday get-togethers to hit this holiday season? We've got you covered with three killer looks that you won't be afraid to tag on Facebook.
Look 1: Family Formal
Meeting the boyfriend's family, heading to dinner at your grandparent's, or any other semi-formal occassion calls for an outfit that is pulled-together, and appropriate, but it doesn't mean you have to look frumpy. An embellished caridgan adds a touch of glam to a simple dress. Opaque tights are both modest and trendy, not to mention a little warmer, while accessories help add a punch of colour to this versatile ensemble.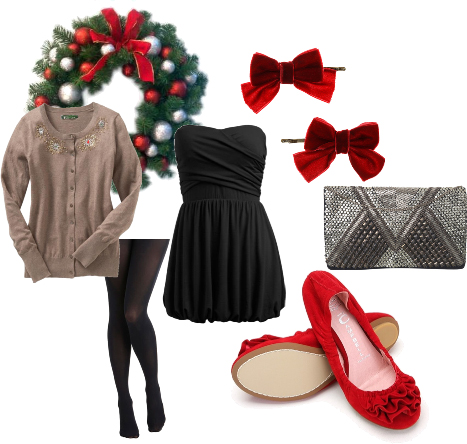 Cardigan, tights, dress, hair clips, clutch, flats
Look 2: Festive with Friends
Got a holiday function to attend with friends, schoolmates, or co-workers? Look your best and stand out in a holiday-red dress with just enough ruffle and embellishment. Keep the rest of the outfit a little subdued with a single pallet of black to keep from being too over-the-top. You want to stand out without looking like a Christmas tree. Tights, heels, a clutch, and simple ring add some interest with different textues (like velvet, so chic this winter) and pull the look together.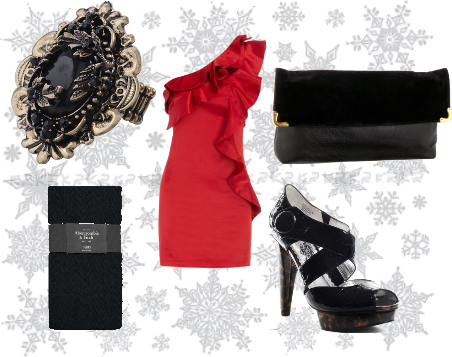 Ring, tights, dress, clutch, shoes
 Look 3: Tacky Holiday Party
What's the point of a tacky holiday party if you don't go all out? With a cheesy sweater, cheap antlers, light-up accessories, and cozy touches, you'll look like you jumped right off of some Christmas card nightmare circa 1994. Still not tacky enough for you? Go for a red nose or grinch-green face paint. Hey, it's only the holidays one time a year, and you won't have an excuse to dress up again until Halloween.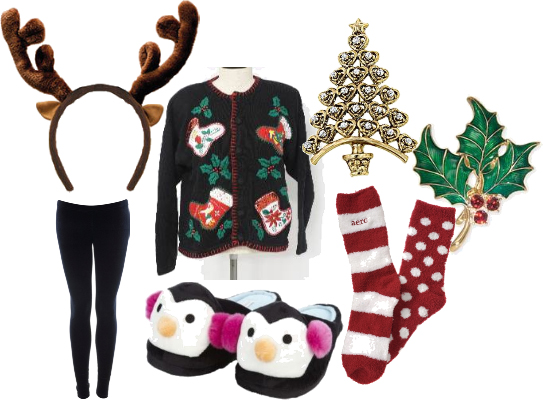 Antlers, leggings, slippers, sweater, pins, socks
What Do You Think?
What parties do you have this holiday season? What are you wearing? Did our outfits give you inspiration? Leave a comment and let us know!