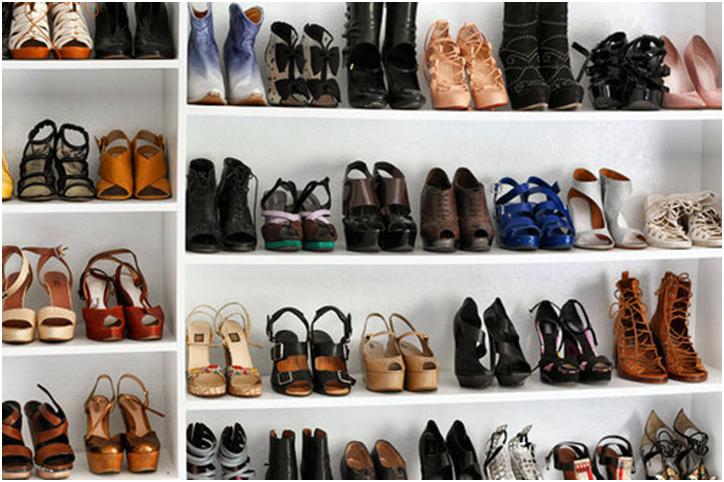 Whether you're the kind of girl who needs a separate closet for your shoes alone, or the kind who only buys a new pair when your fall-back flats have completely worn out, there are specific shoe styles that every college girl should own. Need an excuse to go shopping? Go through my checklist of the 5 pairs of shoes every college girl should own to see if you have them all, or maybe need a closet update:
1. "Career" Heels:
You might not have a job that requires more than tennis shoes right now, but college moves fast and you want to be prepared for possible internships, interviewing for scholarships or awards, and eventually interviewing for your dream job post-grad. Look for a well-made, comfortable, all-purpose black shoe with a low heel that you can walk around in all day without wanting to rip out your eyelash extensions. Higher quality will probably run you at least $50, but a shoe that will be worn to multiple occasions needs to be durable and comfortable.

2. Going-Out Pumps
From keg parties, to Hallowe'en dances, to cheap margarita pitcher night at the local bar, we always have a reason to go out. To look your best and get you in a partying mood, every college girl should own a pair of fun going-out pumps. Pick a heel height that you can handle: if you're a supermodel-in-training go for the 4, 5+ inchers, otherwise stick to 3″ and below. Don't worry about spending a lot of money on these shoes, you're likely not going to wear them as often and want to update to the next trend in 6 months anyway.
Bebe,Wet Seal,Forever21

3. Tall Boots
These can be worn for a night out on the town when the weather is chilly, to class, shopping, out to dinner: the options are endless and a great pair of tall boots can be truly versatile. The price range is up to you: if you want to go for a trendy look, like over-the-knee boots, aim for a less expensive pair, since they'll be out of style sooner. If you choose a classic style, aim for higher price, and therefore higher quality boots that you'll wear forever.
4. Ballet Flats
If you don't already own 16 pairs of ballet flats (or even if you do) it's time you grabbed a pair (or 12). These bad boys combine the best of all worlds: comfort, style, and practicality. You can wear these pretty much daily, to class or the mall, and even dress them up with tights and a nice dress for an evening look that won't leave you blistered in the morning. The best part is, ballet flats are now so popular, you're guaranteed to find a style that suits your taste.
5. Comfy Almost-Slippers
Flats? Okay. Boots? Duh. Almost-slippers? Are you serious? Yes, though they sound weird, I feel like every college girl needs a pair of super comfy almost-slipper shoes, even if they only wear them around their apartment. Perfect for doing laundry or studying at the library. Look for pair of warm and cozy shoes with just enough structure to allow you to walk from point A to point B, and more than enough fluff and fuzz to make you wonder why they aren't shaped like pink bunnies.
What do you think?
I don't know about you, but I'm in the mood for some shoe-shopping now. What are your college girl shoe essentials? What do you think of my picks? Are there any you would ditch, any you would add? Let me know in the comment section. The perfect pairs for every college girl's tootsies? Something every college girl should know.