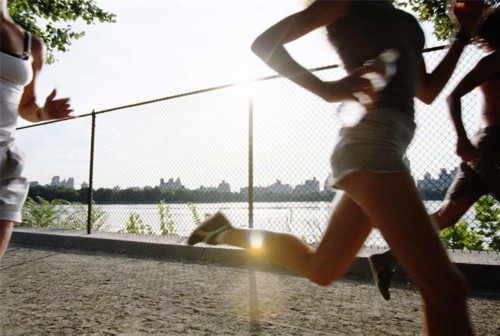 Memorial Day is just around the corner, which means that summertime is on its way. Bathing suit season is almost here. If you, like me, have been putting off getting in shape and are now starting to panic about looking good in your bikini, you might want to give The 100 Workout a try.
The 100 Workout is a fast, all-encompassing workout that any girl can do, at any time of day, and from the comfort of her own home. What makes The 100 Workout so appealing is the short amount of time it takes to exercise the whole body (glutes, quads, thighs, core, and hamstrings) as well as the convenience of not having to go to the gym.
Thinking of giving the workout a try? Here's how you do it:
100 jumping jacks
90 crunches
80 squats
70 leg lifts
60 jumping jacks
50 crunches
40 squats
30 leg lifts
20 jumping jacks
10 minutes of running
That's it! For those of you not used to exercising on a regular basis, I suggest working on one step at a time and adding a step when you think you're ready. I've been doing this workout for a few days now, and I'm sore all over, so it must be working. If you're looking for an easy way to tone up this summer, I recommend The 100 Workout.
What Do You Think?
What do you think of this workout? Is it something you want to try?