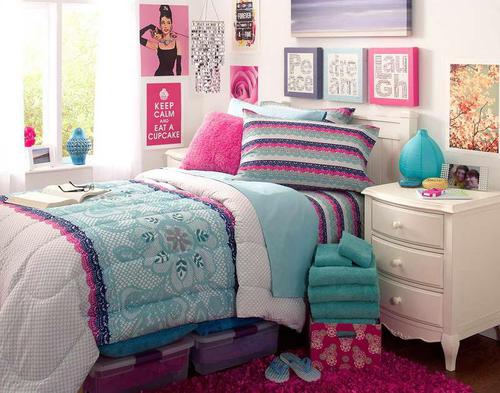 As summer sessions are quickly approaching, many students are receiving their room assignments! Even though dorm life isn't always easy, here are some foolproof tips for having the best room on campus.
Tip #1: Decorate!
It might not be your bedroom at home, but your dorm room is now your new home for the next several months, so decorate!
Put up posters, fill up your drawers with your clothes, and make yourself at home. Some schools even allow you to paint the walls if your dorm is an older dorm. Try and color-match your dorm with your roommate, bring your favorite body pillow from home, and don't ever forget your favorite signed movie poster you've had since you were eleven.
If you feel comfortable in your new dorm room, it will make your transition, and your time, in school a whole lot better.
Tip #2: Try and keep your room clean…ish.
Although not everyone is a clean freak or a slob, keeping your dorm room clean is shown to reduce stress, and raise test scores.
If your room is chaotic, it'll be more difficult to study. If you share a room with another person (or three) try and coordinate cleaning responsibilities with them. Because your dorm most often isn't kept up by cleaning staff, it will be your responsibility to keep your dorm decently clean.
It will make life a lot easier, and if you wanted to have friends over, you don't have to scramble to shove everything under the bed.
Tip #3: Make your bed comfortable.
Everyone knows your trusty Twin XL is always the most comfortable bed in the universe, just kidding!
After living in a dorm for a while, your aches and pains can be more from your bed than your busy schedule. Try and invest in a mattress pad. While they can be super expensive, I promise you it will make life so much easier.
You don't need the 4-inch memory foam "Princess and the Pea" style topper, just an inch or so will make so much of a difference.
Tip #4: Stay positive!
A positive outlook is everything when it comes to dorm living. Having to share a 10-foot by 7-foot space with another person is not always an easy task, especially if you're used to not having to share.
Sometimes you might fight, and you might hate your roommate for constantly sharpening her pencil at 2 A.M. while you're trying to sleep, but in the end, you both have to live together, so make the best of it.
Keeping a positive mindset will make living with another person easier, and compromise is always the key!
Tip #5: Enjoy yourself.
One of the mainly important parts to having the best room on campus is to enjoy yourself while you're in it!
Most of the time you'll probably be out and about, in class, studying in the library, with friends, or catching up on dinner, but when you are in your dorm, make the best of it!
Have dance parties, watch movies in bed, have a friend over, basically make your dorm into your own little oasis of enjoyment.