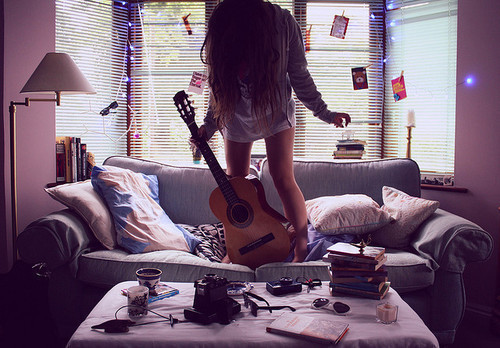 One of the most fun things, I thought, about moving into my dorm freshman year was finally being able to decorate how I wanted. Moving into your own dorm and out of your parents house means that you can pick how you want things to look, for the most part. If you're a crafty girl, or if you want to be, here's three ideas for decorations you can make to decorate your dorm!
1. Lighted Bottles
A lot of college age kids save the bottles from what they drink and display them with pride. Here's an idea that you can use to display your bottles, but with a unique touch. It's super easy.
All you have to do is rinse out the bottle and allow it to dry.
Then get a string of Christmas lights and stuff them in the bottle. You can leave the lid or cork off so that you can plug it in. It's super simple but makes the bottles look really cute.
2. Stringed Memo Board
Memo boards and cork boards are awesome for displaying pictures of friends and family from home and school. This board is a little bit of a twist on the classic and doesn't damage pictures with holes from thumbtacks.
First get an empty frame from Michael's, Hobby Lobby, Goodwill, etc. Then pick a color and spray paint it. After the paint has dried, you can put little decorations on the frame.
Next, take twine and staple gun it to the back of the frame in one continuous strand. There's no need to measure or pre-plan. Just go with it. The more unplanned, the cuter it will come out.
After you have your twine all attached, get some clothespins and start hanging your pictures! You can either hang it on the wall or simply lean it up against the wall on top of a dresser or desk. Like I said, super cute and super simple.

3. Initial Canvases
Everyone loves a good monogram. For this craft, all you need is the canvas or piece of wood the size of your choice, scrapbooking paper, a hot glue gun, and some wooden letters.
All you have to do is Mod Podge the scrapbooking paper to the canvas or wood, whichever you like better.
Then, take your wooden letters and hot glue them however you'd like. You can paint and decorate them beforehand to make them look pretty.
After you're all finished, all you have to do is decide where to put it! It's an easy craft that's quick and turns out adorable. This is also a nice quick throw together if you need a gift for someone.
What do you think?
Your turn! What are some things you have used to decorate your dorm? Are these some crafts you'd like to try? What would you do differently? Post your comments in the box below!