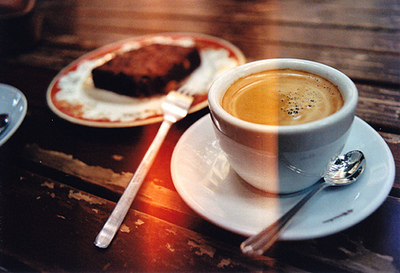 It's that cold time of the year (probably the coldest it will be all season), where I live the temperature has plummeted to a low of -30 degrees Celsius. On days like this all a college girl wants to do is cozy up with a good book (homework related or not) and sip on a warm drink. However, sometimes plain coffee or tea just doesn't hit the spot.
Are you a latté lover? Or do you crave a good cappuccino? You don't have to hike to the nearest Starbucks (or shell out a fortune) to get your fix. Invest in a machine that will brew you up these tasty treats for a tenth of the price!
I personally use an espresso machine to brew my lattes. You can pick up a cheap one at Wal-Mart for under $100!
Recipe for Frothy Cinnamon Latte:
Ingredients:
1 cup milk (I use skim but 2% and whole make better foam and a sweeter drink)
1tbsp ground espresso beans
Directions:
Steam milk until it is at the temperature that you want the drink to be, create the foam by moving the steaming mug up and down (you will see the foam at the top)
Pour liquid into the mug with espresso, stir and scoop foam onto the top.
Sprinkle some cinnamon on top and enjoy!
If you don't have the patience to become a barista, there are other options out there! Tassimo machines are all the rage right now, they brew coffee, lattes, and any specialty coffee drinks by the barcode.
What Do You Think?
What do you think? Would you make these drinks yourself, or would you rather make the trip to the nearest coffee shop?