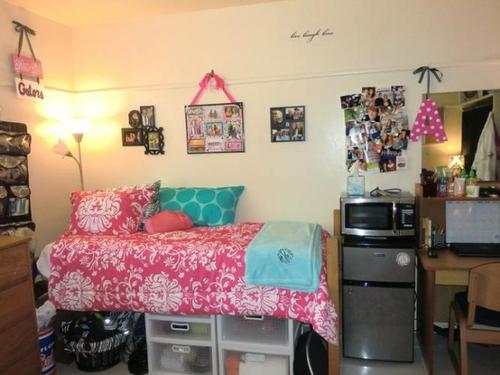 Suggested Tools
Poster putty
Wrapping paper
Printer
Colorful bed spread
Posters
Standing lamps
Organizational bins
1. Start with your door.
Why limit yourself to just the inside of your bedroom? Before people even enter your dorm room, you can give them a fun impression by covering your door in a printed wallpaper. I did this my sophomore year and all semester people were complementing me. It's just fun to come home after a long day of classes, work, and meetings and to see a bright blue door, instead of an old scratched up wooden door. Also be sure to use the back of your door for a large hanging mirror, which will make your room seem a little bigger, or a calendar, which will keep you organized.
2. Have a place for everything.
One of the main difficulties of having a small room is that if one or two things are on the ground, then the whole room looks cluttered. To combat this make sure you have  under-bed boxes, standing bins, laundry baskets, over-the-door hangers, etc. Anything that you can put stuff in which keeps it off the floor. You can buy a good sized 3 drawer storage bin from the store and then use the top for putting more items, like your books or your printer. Also think about have a cup on your desk for all of your pens and pencils and highlighters if you like to have those on hand
2. Opt for stylish essential items, like your bedspread
There are already several items you have in your room. Always. Like your blankets, pillows, bedspread, mirror, and desk. Use these things to your advantage to add some style to your room. Pick a bedspread with your favorite color or design, like houndstooth and match this with your other items, like your mirror. Try decorating the frame of your mirror or paint the frame to match your bedspread for a fun pop of color.
3. Use tall, skinny items like a standing lamp.
Students often overlook lighting in a dorm room. Sure there are lights in the room, but will it be enough at night? A standing lamp is definitely a good idea. Also since it's tall, it draws the eye up so the room feels a little bigger. If you don't need need a lamp, you could get a coat rack. Coat racks are great for winter when you're wearing a lot of layers. It can also multi-task and hold other things like your belts or purses.
4. Put up larger than life artwork.
Most universities have stores which sell some great artwork for dorms or apartments, but if you want to make a big impact try making your own poster. The Rasterbator is a free online tool which can take any picture and make it into a giant poster, which you can then print out on multiple pages and piece together yourself. You can even use your own personal pictures, so if you have a great picture of you and your roommate, consider printing a copy. If you have any bare walls in your dorm or apartment, this is a great solution. I've already used it once this semester and loved it!
What Do You Think?
What's your dorm like? How have you made your space your own? Leave us a comment and let us know!