Maybe you're not the all out and elaborate Halloween costume kind of girl, but that doesn't mean you can't incorporate a fun hint of the holidays into your attire. You could throw on some skeleton earrings or a cute pair of Halloween socks, but my favorite way to add some spooky to my style is by bringing Halloween to my fingernails! There are so many ways to do this, your imagination is the limit, so I'll just go over what I do!
Suggested Spooky Nail Tools
Sally Hensen Nail Art Pen
Halloween nail polish colours, like orange or whatever you have on hand
Clear top coat
Fake nails
rhinestones, glitter, etc.
I like having nice noticeable nails and am always getting compliments on how they look. They usually take me about an hour every 4 or 5 days, but the time investment is well worth it in my opinion, especially around Halloween! The nail polish product that I've been crazy about lately is the Sally Hansen Nail Art Pen. You can get them almost anywhere, and they come in a variety of colours. They aren't overly expensive if you get just one or two at a time, but if you wanted to pick up every colour at once it could get pricey. My suggestion is to just grab black and white first, that way, if you're anything like me, you can rely on your massive collection of colourful nail polish for the base, and just use the pens as accents.
The nail art pen works basically like a fine tip marker. You chose your base colour, paint your nails (I usually do two coats, depending on the quality of the nail polish I've chosen) and wait until they are completely dry. Then for the fun part, you draw whatever you want on your nails! It can be a little tricky at first, especially if you're not ambidextrous and are using your off hand, but if you practice your design a few times on a sheet of paper, you'll do fine! When the nail pen dries, then you just do a clear finishing coat.
Some of my favorite Halloween themed nails are skulls (usually on a pink background so it's girly, yet festive), bats, ghosts, candy, frankensteins or spiderwebs, but your options are nearly endless. Keep in mind that if you're just starting out, simple shapes like skulls or ghosts are going to be easier to master than trying to do a Nightmare Before Christmas character on each finger, though that would be kind of awesome.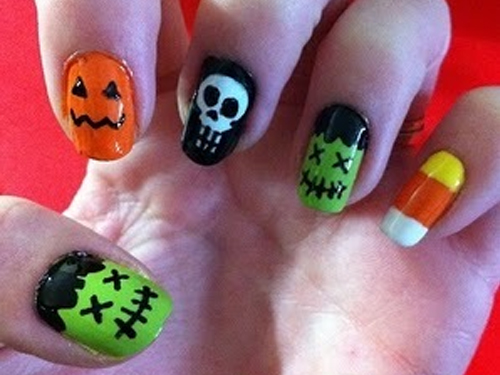 If you are having trouble, or just as a fun alternative, you could throw a little Halloween nail decorating party with a few of your friends. Put on some horror movies, have everyone bring a different colour of nail art pen and then you can decorate each others nails, which is certainly easier than trying to do your own. Plus it could be a lot of fun! You could also pick up a set of fake nails and decorate them in your favorite Halloween theme before you apply them, if you don't mind fake nails.
What Do You Think?
Will you be doing anything special with your nails for Halloween? What are some of your favorite Halloween nail themes? Leave us a comment and let us know!