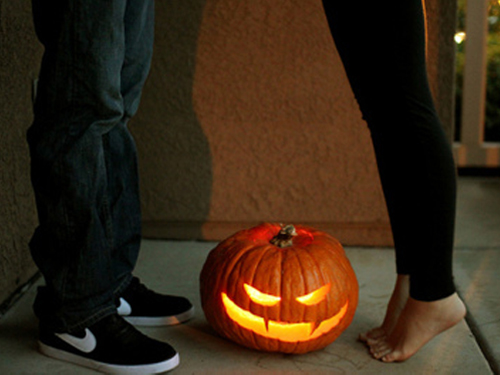 photo credit
As sad as it is to admit College Girls, we really have outgrown one of my favorite Halloween traditions, trick-or-treating. That doesn't mean I'm ready to be the one who volunteers to sit inside all night handing out candy to those lucky little ghouls and boys who still get to enjoy it though! There's lots of fun to be had for us, even if this year Halloween happens to fall on a weekday.
There's just something about Halloween, it's fun and carefree and all about being silly and enjoying yourself, so really it has the potential to be the perfect fun date night! One of the best dates I've ever had was on Halloween, I'd just stared seeing this guy and neither of us had any plans so we decided to hang out, and it was awesome! So, if your Halloween plans were to sit inside alone and eat a bucket of candy, cancel them! Ask out that guy you've been flirting with from the library or call up an old friend and go have some fun!
Costume, Or No Costume?
Dates are all about getting to know each other, so if you're the type of girl who loves dressing up, like me, you should! It's not like you're going to a Halloween party though, so keep it mild. Don't go for full zombie makeup in a blood drenched ballgown, instead thrown on some cat ears, a cute little mask or paint a bat on your cheek. Be festive if that's your thing, but don't go over the top, and try not to hide your pretty face, especially if it's a first date!
Movie
A horror movie is pretty much a Halloween must have, and your guy will probably appreciate the fact that you're not trying to get him to watch a chick flick! If you have a hard time with scary movies, go with something older and classic, back from when gore and guts looked less realistic. If you love horror movies, go all out and try to pick something that will frighten even him! You can always cuddle if it gets too scary.
Activities
If there are Halloween activities where you live, some of them can actually be a lot of fun on a date! You could go through a haunted house together or take a haunted hay ride. If there's nothing like that going on, find something somewhat spooky to do on your own. Walk a dark trail (as long as it's safe to do so) or take a stroll through a graveyard. Go walk around and check out all the kid's costumes or stay in and carve a pumpkin together. Just keep it lighthearted and fun and maybe it will end up being the best date you've ever had!
What Do You Think?
What will you be doing on Halloween this year? Can you think of any other Halloween date activities? Leave a comment and let us know!