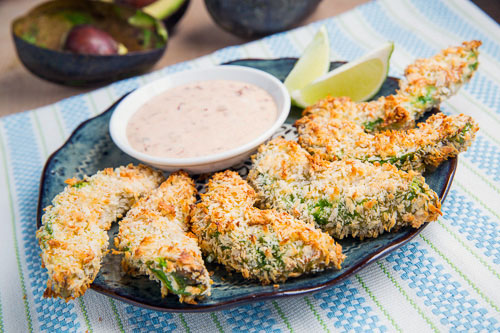 photo credit
At a loss as to what to do with those ripe avocados sitting on your counter? Look no further than this recipe for baked avocado fries, which turns this delicious super food into a healthier take on fries!
Original recipe can be found here.
What you need (yields around 20 avocado fries)
3 ripe avocados
2 eggs
1/2 cup of all-purpose flour
Salt and black pepper
1 1/2 cups of panko breadcrumbs
1 tablespoon of melted butter
1/2 teaspoon of garlic powder
1/2 teaspoon of onion powder
1/2 teaspoon of salt
1/2 teaspoon of paprika
1/4 teaspoon of freshly ground black pepper
Cooking spray of your choice
Preparation
Preheat your oven to 450 degrees F
Line a baking sheet with foil, place a wire rack on the sheet (I have made these without the wire rack and they still turned out fine)
Slice your avocados lengthwise. Using three avocados you will yield around 20 avocado fries.
Prepare for breading: set up three bowls in a line. In the first bowl place the 1/2 cup of flower and add salt and a few grinds of black pepper. In the middle bowl add the eggs, lightly beaten. In the third bowl combine the breadcrumbs and butter and mix, then add the garlic powder, onion powder, paprika, salt and pepper. Combine well.
Coat each slide of avocado through the first bowl, then the egg, and then coat thoroughly with the breadcrumbs.
Place the slices, once breaded, on the wire rack.
Once all slices are on the rack, spray lightly with cooking spray.
Bake for 20-25 minutes, until the breadcrumbs are lightly browned.
Once your slices have cooled after about ten minutes, serve with your favorite dipping sauce and enjoy!
What do you think?
Have you tried this recipe? What are your favorite avocado dishes? Leave us a comment below.