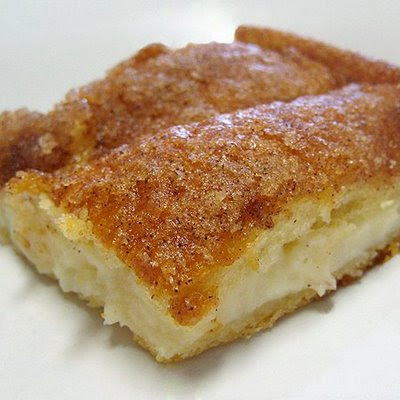 photo credit
I have made this cheesecake a few times, and not only is it boy-approved, but it's budget approved too. Regardless of your cooking level, this recipe is so good that your status won't come into question. Essentially it's quick, it's easy, it's inexpensive, and it's still delicious.
What you need
1 egg
2 cans of pillsbury butter crescent rolls (get the seamless kind!)
2 (8 ounce) packages of cream cheese (leave it out for a few hours to soften, or microwave)
1 cup of brown sugar
1/4 cup of melted butter
Cinnamon and some extra brown sugar
Preparation
Preheat your oven to 350 degrees
In an un-greased baking sheet, roll out 1 can of the crescent roll dough
In a mixing bowl, combine the cream cheese, egg, and sugar
Spread the mixture over the crescent roll, try to make it as even as possible. Go all he way out to the edges
Unroll and spread the last crescent roll over the mixture
Spread the melted butter over the top
Sprinkle with cinnamon and extra sugar
Bake for about 20-25 minutes
Normally I serve this dish hot, but it is also great refrigerated/chilled too. My boyfriend and I have debated which method tastes better and we have decided that both are amazing. Regardless, make sure you store in the fridge instead of leaving out, it's still a cheese product and needs to be chilled.
What do you think?
Have you tried this recipe? Do you have any other easy dessert recipes? Share with us in the comments section below.