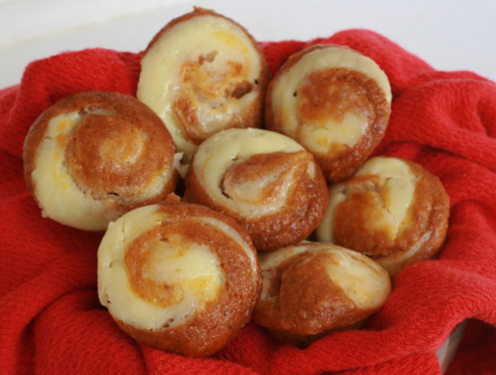 photo credit
If you want to use up all of that pumpkin flavor you have stocked up on this fall, or make something delicious for your loved ones on Thanksgiving morning to get into the holiday spirit, look no further than this recipe for pumpkin cheesecake muffins! These are easy to make, and all you need is a muffin tin and a measuring tool, and an optional mixer.
Original recipe can be found here.
What you need
1 15 ounce can of pumpkin
2 large eggs
1/4 cup of vegetable oil
1 cup of sugar
1 tsp of vanilla
1 1/2 cups of flour
1/2 tsp of baking soda
1/2 tsp of ground cinnamon
1/2 tsp of ground ginger
1/8 tsp ground cloves
1/4 tsp of ground black pepper
1/2 tsp of salt
For the filling:
1 large egg yolk
8 ounces of cream cheese (softened at room temperature)
5 tbs of sugar
1/8 tsp of vanilla extract
Optional: nuts – walnuts, pecans or pumpkin seeds
Preparation
Preheat your oven to 350 degrees F
In a mixer set on low, or mixed by hand, mix: canned pumpkin, oil, sugar
Once those are mixed, add in the eggs one at a time until combined thoroughly
Add vanilla
Whisk together the flour, baking powder, baking soda, spices and salt
Add the flour mixture to the liquids, combine thoroughly
For the filling: mix the cream cheese, sugar, vanilla, and egg yolk
To assemble: Grease the muffin tin or line with small paper cups. Drop in spoonfuls of the pumpkin mixture, and add smaller spoonfuls of cream cheese mixture on the top
Swirl with a skewer, and then (this is optional) top with the nuts or pumpkin seeds
If you're using a mini muffin tin, bake for 20-25 minutes. If you're using a standard muffin tin, bake for 25-30 minutes. If you're baking large muffins, bake for 30-49 minutes.
And enjoy!
What do you think?
What do you think of this recipe? What is your favorite Thanksgiving morning treat? Share with us in the comments section below!