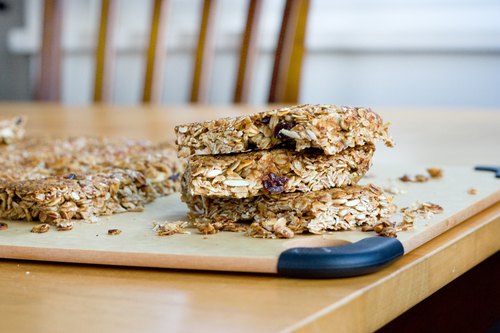 photo credit
Have you noticed the lack of pronounceable ingredients on the labels of store bought granola bars lately? If you haven't, maybe you've at least glanced at the price. Neither are very appealing, especially when all you need to create your own delicious granola bar concoction are a handful of ingredients that you most likely have in your kitchen right now!
What you need (makes about 12-16 squares)

4 cups of rolled oats
2 tablespoons of chia seeds (not necessary, but the nutrition payoff is great!)
1/2 cup of brown rice syrup or honey (raw, organic honey is a great choice)
1/2 cup of chopped, unsalted peanuts or almonds
3/4 cup of melted natural peanut butter
Extras: (your choice to add in) chocolate chips, dried fruit, cut up dates, coconut, any other nuts, dried fruit, flaxseed or wheat germ… just about anything goes!
Preparation
Preheat your oven to 350 degrees F
In a large mixing bowl toss in the oats, chia seeds and peanuts
Add in the syrup or honey, and combine thoroughly
Add the melted peanut butter and mix until the mixture is moistened
Toss in any additions you want to your granola bars, folding them into the mixture. If the dough seems dry, add in more syrup or honey a small dollop at a time until it softens
Press the dough into a greased 9×13 baking dish
Bake for 25 minutes
As an option this recipe can be done without baking: instead put the baking dish in the refrigerate for about an hour.
What do you think?
Have you tried this recipe? What are your favorite ingredients to add in? Share with us in the comments section below.