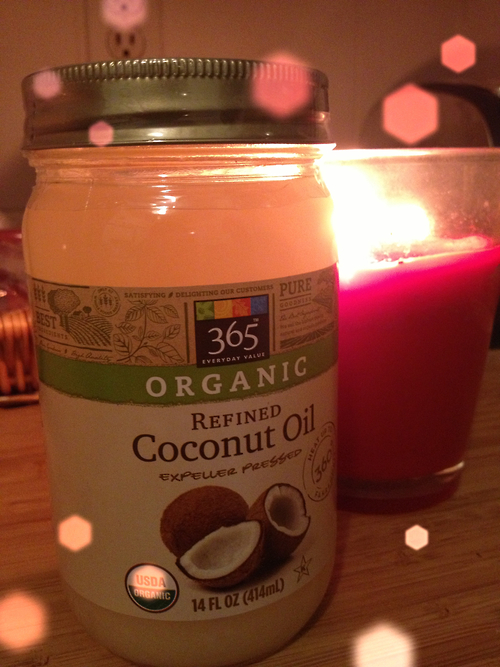 photo credit
So I just so happen to be sitting here with my hair tied up, soaking in some organic coconut oil that I picked up from Whole Foods for about $7! I did some beauty treatments with it back in high school but then randomly stopped, and I'm thinking it's time to pay homage to my old flame. It's an affordable alternative to so many beauty products that we spend our money on – with this ~$7 investment you can cover all of your bases from lotions to hair products and shaving gel.
After doing a little research I realized that this goes way beyond beauty, and crosses the boundary into health uses too – you can literally do anything with it:
It gives you an energy boost if you eat a spoonful
helps strengthen your cuticles if you coat them with a thin layer
eat a spoonful with vitamins to help absorption
great to add to body lotions or use as body wash or shave gel in the shower
acts as a natural deodorant if you dab a little under your arms
it can condition your wooden cutting boards in the kitchen
moisturizes your lips
can be used as a substitute for cooking oil or vegetable oil while cooking
put some in bath water for a moisture soak
can be used to remove makeup
soothes skin irritation, bug bits or stings, athlete's foot or other fungal infections
can be used on cuts and burns (use a thin layer only) to facilitate healing
improves thyroid function if you eat 5 spoonfuls a day, as well as overall immune health
prevents wrinkles and sagging if you put a little under your eyes
can be used as massage oil
helps reduce migraines
coat your cooking and baking dishes instead of cooking spray
it acts as a natural sunscreen
for hair: leave in for several hours for a natural conditioner, use as a shampoo, mix with honey for a moisturizing hair mask. It's lightweight and won't leave your hair greasy if you cover from ends to scalp, just make sure to rinse out with shampoo
What do you think?
What do you think of this article? Have you tried organic coconut oil? What are your favorite all-natural beauty treatments and products? Share with us in the comments section below.