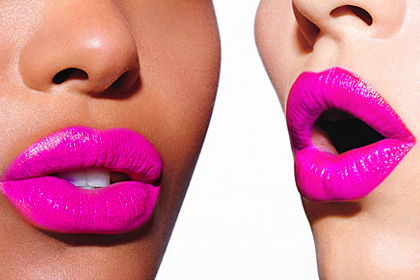 photo credit
Bright neons, silver and white accents, pastels… need I say more? Spring makeup is light and fun, but still loaded with pops of color and a little fierceness. If you're not sick of the cat eye, not afraid to be bold with color, and have plenty of bright nail polishes at the ready, read on for three of this season's best makeup trends!
Bright pastel lips
A bright pastel pink is a great lip color for nearly every skin tone, and will really make your lips pop. Because the color is so bold, it helps to keep lips matte. MAC does a great bright pastel pink in "Girl About Town" that retails for about $14.50.
Neon nail polish
You're never too old for a little pop of bright nail polish. Whether you're into pinks, oranges, purples, or even yellows, neons have been making a real comeback. Essie just released a full line of neon colors, which compliment just about every skin tone with their bright hues.
A bold cat eye
The familiar cat eye is being taken up a notch this season with an extra layer of liner and a double-tapered edge! Instead of a thin line of eyeliner flicking upwards at the end of the lash line, try adding an extra layer on top to thicken the line, and end the line at the corner of your line with an upward stroke. This will create a bolder looking cat eye with two tails, which will make your eyes pop and look more sultry.
Silver and white eyeshadows
Silver and white eyeshadows are a beautiful way to make your eyes stand out but still look soft. A reflective and shimmery silver applied lightly to highlight the brown bone, or applied just below the crease, is a great way to create a little glow and make your eyes stand out.
What do you think?
What are your favorite Spring makeup trends? Which one of these will you be trying this Spring? Let us know in the comments section below!