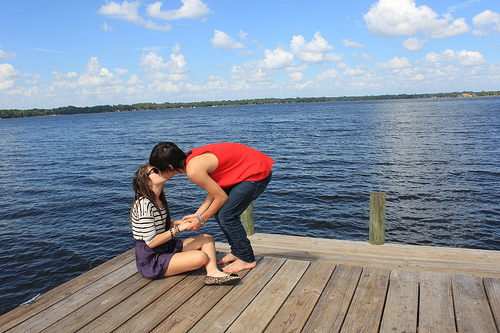 photo credit
You want that perfect date, but you don't know what to do. You don't want to continue going to that same restaurant every single Friday. If you want to change up your relationship, make date night at your own home. Why don't you cook him a delicious dinner? Rent a movie? Or even play a sport in the backyard?
Date nights are fun, but after the same routine for the past couple of weeks it's time to change it up. Guys are indecisive. They could care less where you go as long as you're happy, and they get to eat. You care more about spending the time with him and letting him know how your past stressful week is. Here are a few date night tips:
Make Dinner at Home:
Go grocery shopping together and then cook a dinner at home together. Make extra so you can have some leftovers.  A personal favorite is stir-fry. It's simple and requires two people to make it successful. Plus, you both can add your special ingredients that some stir fry's at local restaurants don't offer.
Rent a Movie:
Movie kiosks like Blockbuster Express or RedBox are $1 for the night. You can snuggle up on the couch, make out, and have a good time without spending over $20 to be in a crowded, popcorn smelly movie theater.
Do Something in the Backyard:
Some little competition is good for a relationship. Throw a ball around, play some basketball, or even make up your own game. Make a bet like winner gets a back massage. Go swimming if you have a pool nearby.  Maybe start a small backyard fire and make s'mores together.  It will be a fun, relaxing night.
Go Mini Golfing:
This is perfect for couples who work late at nights. Most mini golf courses are open until 11pm the earliest, so you can still have a fun little competition together. Afterwards, get some ice cream cones.
Make a Picnic:
Create a basket filled with both of your favorite sandwiches, chips, and drink and bring it to the local park. Enjoy the sunset together and even be able to stargaze.
Go To The Mall:
Don't make it a basic mall trip. Walking around the mall isn't fun especially for him. Go with a mission. For Example: You buy his date night outfit, he buys yours. Both of you buy ridiculous clothes and wear them the next day. You can also take him to Victoria's Secret to buy you some new sexy lingerie for the night.
Arcades:
Arcade games are not just for young boys. They may bring back old memories for your guy, which he'll love. Playing your favorite arcade game can show that you don't need to do the classic dinner and a movie. Try to kick his ass in some ski ball.  Use this as another mini competition together.
These date night ideas should help spice up your relationship and help get you out of your rut of doing the same thing all the time. Make sure if you do the classic date night, dress up. Who doesn't want to dress up? Use it as a perfect opportunity to wear that new dress you just bought at Forever 21 or your new favorite pair of heels. Don't get stuck in a routine because it could lead to you both becoming too comfortable with each other and in a rut.
What Do You Think?
What's your typical date night? How creative do you and your guy get? Leave us a comment and let us know!