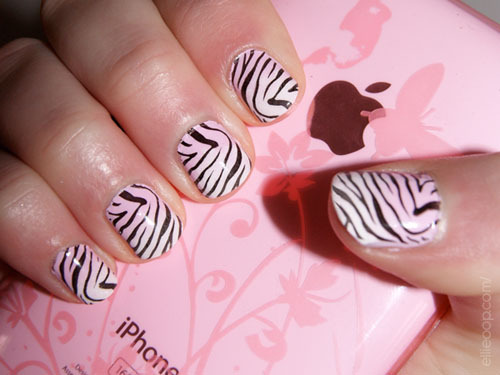 Here at Every College Girl, one of our most popular posts of all time is our tutorial on how to get cheetah print nails. I love the look; it's so simple and fun, and animal prints are getting hot again. To follow along the same vein, I decided to do a similar animal print nail tutorial. This time: zebra or tiger stripes!
What You Need…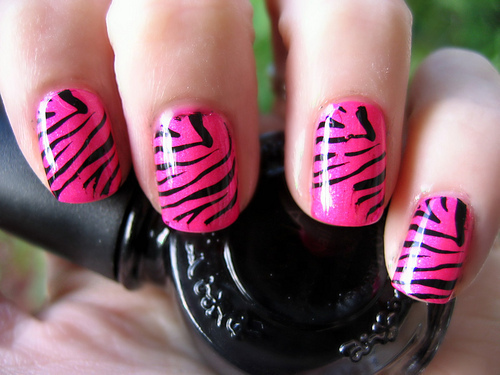 White nail polish
Black nail polish
Clear top coat nail polish
Thin paintbrush (from craft/dollar store), dotting tool (from beauty supply store), or toothpick
Nail polish remover
Q-tip
Directions…
Start by applying the top coat. This will help the white polish from looking streaky.
Now, apply 2-3 coats of the white polish. This can be kind of tedious, as you wait for each coat to dry, but it's the best way to get a crisp white base for your nails.
Now's the fun part. If you're using a paintbrush, wet it with water before dipping it in the black paint to make a thin point. Start your zebra pattern. I find it helps to have a basic image of zebra print in front of you as you do it. Use short strokes and gradually build up the stripes. If you need to, practise on a piece of scrap paper first.
Once the stripes are dry, carefully add one more layer of top coat.
To finish, dip the Q-tip in the nail polish remover and clean up the edges of your fingertips to remove any smeared polish.
Mix It Up…
I love this look with different colour combinations. The photo above uses hot pink as the base (which wouldn't require the first step, and less coats in step 2). For a tiger look, simply switch to an orange or gold base. It also looks good with a silver base, or with a white base and cream stripes, so the pattern is barely noticeable. If you get really good at it, try applying the zebra stripes to only your french tips! The possibilities are endless.
&nbsp
What Do You Think?
Did you try our cheetah print tutorial? What do you think of the zebra print look? Leave a comment and let me know!