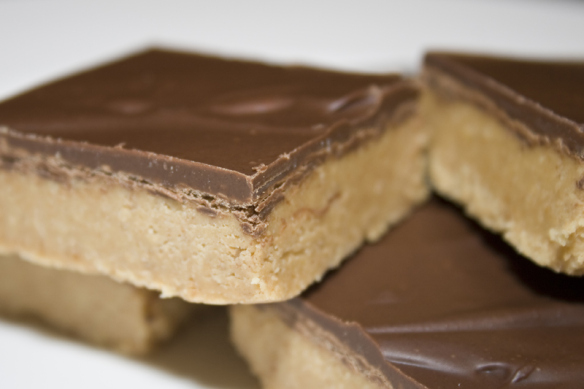 Let's be real, this is candy season. If you don't have time to run to the store to pick some up, you're not off the hook… not that you want to be. Whether you're snagging some Halloween candy or not, you can munch on your own Reese's bars, homemade, with no baking necessary! The prep process takes about 5 minutes, or the length of one commercial break during your scary movie marathon.
What you need
2 cups of graham cracker crumbs
2 cups of powdered sugar
1 cup of melted butter
1 cup and 4 tablespoons of creamy peanut butter
1 1/2 cups of chocolate chips
Preparation
In a medium-sized mixing bowl, combine the butter, powdered sugar, graham cracker, and 1 cup of peanut butter
Mix well
Take an ungreased 9/13 baking pan and press the mixture into the bottom
Melt the chocolate chips with the remaining peanut butter in the microwave
Stir until creamy and smooth
Spread over the peanut butter layer in the pan
Refrigerate for one hour
To serve, cut into squares. And enjoy!
What do you think?
Have you tried this recipe? What is your favorite Halloween treat? Share with us in the comments section below.